New legal trick: Fake hospital sites for finding clients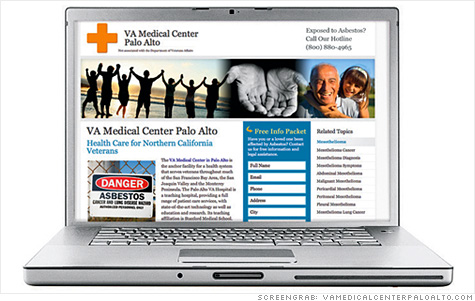 (Fortune) -- Until about noon on Wednesday, dozens of websites were identifying themselves with a Red Cross-ish logo and names like "VA Medical Center Palo Alto," or "VA Hospital San Francisco," or "VA Medical Center Gainesville" though they had no affiliation with the U.S. Department of Veterans Affairs. They were actually operated by plaintiffs law firms that were searching for clients with asbestos-related diseases.
The sites were designed in ways that might easily confuse elderly and infirm veterans into falsely believing that the VA itself was recommending that they see certain lawyers if they suffered from asbestos-related illnesses. (Unfortunately, this article is not an April Fool's joke.)
Many veterans were exposed to asbestos during their service in World War II, Korea, and Vietnam. Because those dying from an asbestos-related cancer called mesothelioma (nearly 100% fatal) may be entitled to large awards from former asbestos manufacturers or their bankruptcy trusts, contingent-fee lawyers -- who are paid a percentage of their clients' recoveries -- have strong financial incentives to find and sign up such clients.
I started making inquiries of the three firms listed as "sponsoring" these sites -- including a prominent New York-based pharmaceutical and medical device plaintiffs firm known as Seeger Weiss -- on mid-afternoon Tuesday. None of the firms initially got back to me but by Wednesday morning the sites had received a modest facelift, adding a tiny disclaimer at the top of each home page stating "Not Affiliated with the Department of Veterans Affairs." At the bottom, a second disclaimer had also been added in small, faint-gray print. It stated that the site was "sponsored by" Seeger Weiss and two other law firms, identified only as the Flood Law Office and Melinda J. Helbock, APC. (Prior to my calls, the information was provided only if the reader clicked on a similarly faint-gray link labeled "disclaimer.") Each site purported to be copyrighted by the "VA Medical Center" in question.
Late Wednesday morning, Christopher Seeger, the founding partner of Seeger Weiss reached me, apologized for not having seen my earlier emails, and said he'd had "no idea -- none," that the sites were listing Seeger Weiss as a sponsor. He blamed the problem on his firm's newly opened Los Angeles office.
"I don't know these guys Flood and Helbock," Seeger continued. "I've instructed them to pull our name off and take them down," Weiss said. "I was contacted by them and told they don't have the resources and asked if we were interested in accepting referrals ... I don't want my name on a Website that purports to be a government site. I haven't accepted a case from them yet."
By early Wednesday afternoon the sites had been pulled down and, as of this writing, attempts to reach the sites bring up a page reading: "Under construction!"
Repeated calls to the Flood and Helbock offices on Tuesday and Wednesday were not returned.
The sites were located at addresses like, for instance, www.vamedicalcenterpaloalto.com or www.vamedicalhospitalsanfrancisco.com. We are not hyperlinking to the addresses because, should the sites be restored in any form, linking to them might raise their standing in search results provided by major search engines. As of Tuesday, my searches for "VA Medical Center Palo Alto" always generated a listing in which the law firm's site was on the first page of results, and on one occasion it was the third link offered. There appeared to be one of these law firm-sponsored "VA Medical Center" sites for virtually every veterans hospital in the nation. Google caches of some pages still appear to be available, capturing at least portions of their content.
When I first noticed the sites about two weeks ago, they were then "sponsored by" a different firm, a small office in Alton, Ill., called Saville, Evola & Flint. A call to that firm Tuesday was also not returned.
Each VA Medical Center site began with a paragraph describing the VA institution in question, and it sometimes provided the institution's correct address and phone number. However, the sites also listed -- three and, sometimes, four times -- a telephone number referred to as "our hotline." The sites also invited readers exposed to asbestos and seeking legal assistance to fill out an online form.
My call to the number Tuesday afternoon was answered by a male voice saying, "hotline." I inquired if this was the VA Medical Center Palo Alto and was told, "This is not the actual medical center, no, but we do advertise on their website." I identified myself as a reporter and, when asked, he identified himself as a legal assistant at Seeger Weiss. He took my number and said he would have the appropriate person get back to me for comment on whether the site was misleading. No one did until I renewed calls to the Seeger Weiss firm Wednesday morning.
There is nothing new, of course, about so-called spam sites -- parked domains set up to capture misspellers or the unwary Web surfer. It has also been previously reported that some plaintiffs law firms operate sites that at least superficially resemble disinterested nonprofits acting on behalf of mesothelioma victims, some of which employ the ".org" suffix commonly associated with nonprofits. This was, however, the first time I'd seen sites labeling themselves in ways that seemed to invite confusion with veterans hospitals.
Aside from the distastefulness of deceiving aging men and women who have served their country, and the stain it places on the legal profession itself, who else might be hurt by sites like these? It is probably competitor asbestos plaintiffs lawyers, those disdaining to stoop to such methods, that are hurt most directly. "It's cheating," says one such competitor, who brought the sites to my attention, but requested anonymity.
Stephen Gillers, a legal ethics professor at New York University School of Law, reviewed the VA Medical Center Palo Alto site Wednesday morning at my request (after the home page disclaimers had been added). In an email he wrote: "I had to look closely to find evidence that a law firm sponsored the site. The law firm connection is submerged. The first impression, and maybe the last one before a user replies to a questionnaire, is that the site offers assistance on health, not law. I consider the home page misleading and misleading advertisements are forbidden."
A second legal ethics authority, professor William H. Simon of Columbia Law School had a similar reaction: "It seems highly misleading," he wrote in an email. "Both the substance and the look-and-feel convey the impression that the VA is offering the services ... The site I looked at -- the Palo Alto one -- is so deceptive that prosecution would be a slam dunk for any regulator that went after this."