Going solo: Nature called, he listened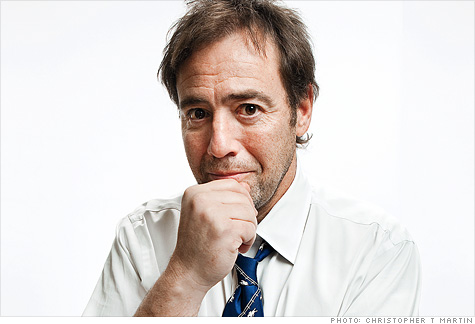 (Fortune) -- In a service business, your clients can also be your teachers. Joel Babbit, the Atlanta-based president of PR firm GCI Group, realized that after Dell (DELL, Fortune 500) -- a client -- started spending big to promote its environmental-responsibility programs. To bone up on the green world, Babbit went online, only to find academic websites and tiny operations that left him confused. There was nothing for mainstream consumers.
And so it goes: the chance discovery of a gap in the market just waiting to be filled. But Babbit, 56, wasn't sure he was the right person to fill it. His world was advertising: Before heading to GCI (now Cohn & Wolfe), he had built and sold two ad companies, Babbit & Reiman and 360. He could retire comfortably one day from GCI -- or he could take a risk.
He ended up choosing the latter when he had lunch in March 2008 with his friend and client Tom Bell, former chairman of Young & Rubicam.
Babbit offhandedly explained that general interest in the environment had skyrocketed, and that corporations were spending more than $5 billion to tout environmental responsibility. But there was no single site for the average person.
The accidental pitch went over big. Bell funded 20% of the venture on the spot; within 24 hours Babbit had raised nearly $10 million, including a chunk from Rolling Stones keyboardist and environmentalist Chuck Leavell, a fellow Georgian. He gave notice the next morning at GCI, and the Mother Nature Network website (MNN) launched in January 2009.
Babbit's timing was both great and awful. He'd raised the money just before the market crashed, but now naysayers were telling him MNN's model would no longer work. "The biggest challenge was not paying attention [to them]," he says.
One advantage was Babbit's background, which helped him come up with creative pitches for MNN's advertisers. The site has about 35 categories, such as computers and energy, and companies like Coca-Cola (KO, Fortune 500), AT&T (T, Fortune 500), and P&G (PG, Fortune 500) pay to be the exclusive advertiser on a segment.
Despite the crisis, MNN turned a tiny profit in its first year on revenue approaching $5 million. The lesson: Leverage your expertise -- but follow your heart.
Going solo
Reputation matters. Babbit couldn't have started MNN without the ties that come from a history of impressing clients. Some later became his investors. "You spend your life doing a good job for people," he says. "It builds credibility."
Beginner's advantage. As a fresh face, MNN didn't have to follow existing rules. Babbit was free to come up with new models, like its advertising structure.
Ignore the critics. Everybody has 10 reasons you shouldn't start your own business. Babbit says you'll never do it if you listen to them.