No loans! Major colleges pledge aid without debt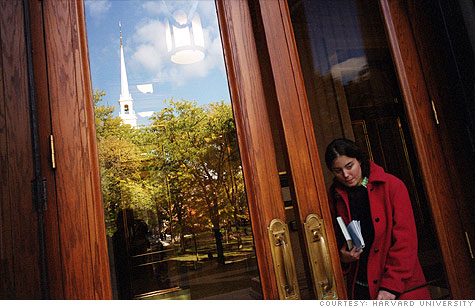 NEW YORK (CNNMoney.com) -- The economic crisis may have pared school endowments and state aid to education, but many colleges say they remain committed to fully funding students' financial need.
In fact, a group of schools is pledging to do it mostly through grants and work-study programs, and not with loans.
Yale, Harvard and the University of California network are among the at least 50 colleges planning to limit or remove loans from their financial aid packages, according to a report released this week by the Institute for College Access and Success. While 50 might not seem like a lot, their student bodies represent 8% of all four-year college students in the United States.
The "Project on Student Debt" report comes in the wake of announcements from both Williams College and Dartmouth that, due to diminished endowments, they will re-introduce loans to their financial aid packages starting in the 2011-2012 school year. Both schools previously had a "no-loan policy" in offering need-based financial aid.
Schools are trying to getting away from loans in an effort to avoid saddling graduates with debt that could limit their career options and start them in a deep financial hole. So the fact that so many big schools are staying with the program is seen as good news by the institute.
"We hear so much bad news about college affordability and how expensive college can be," said Edie Irons, a spokeswoman for the Institute. "Given the rocky economy, this is really good news that more colleges are not planning such big changes."
(Check tuitions for any 4-year college)
Job losses, deteriorating home values and tighter credit all lowered family incomes and factor into the gloomy financial mix as parents and students sit around kitchen tables pondering admissions letters.
Still, Irons said, colleges took big hits in the economic crisis just as families did.
Public schools were hit by a 1% decline in state funding in 2009, a drop that was largely offset by the federal government's $787 billion stimulus package for states, according to Illinois State University's Center for the Study of Education Policy.
Meanwhile, college endowments fell 18.7% in fiscal 2009, according to the National Association of College and University Business Officers. Those losses hit hard at private colleges in particular, resulting in tuition hikes and budget cuts.
Harvard's endowment suffered the greatest proportionately. A loss of nearly 30% forced many of the college's departments to cut budgets by as much as 15%. Yet despite the hit, the university as a whole is increasing financial aid by $13 million, or 9%, for the upcoming academic year.
By the time all the financial aid is distributed, few students will pay Harvard's full $50,000 tuition sticker price. The university expects its average need-based financial aid package to be worth $40,000 this year, said Sally Donahue, Harvard's director of financial aid.
When a college, such as Harvard, claims it meets 100% of students' financial need, that doesn't mean students aren't still footing at least part of the bill.
Rather, financial need is defined as the total cost of attendance -- including tuition, books, room and board -- minus a family's expected contribution.
The expected contribution, which is often determined by a federal financial aid formula, can get a bit complicated. But generally speaking, lower-income families are expected to contribute a lower portion of their finances than higher-income families.
So, the final cost a family with an income of $120,000 can expect to pay, after Harvard's financial aid, is $16,000. That same family would pay $15,800 at Yale, and $34,000 at Stanford after receiving those colleges' financial aid packages.
For public schools such as the University of California system and the University of Michigan, the salary threshold for receiving need-based aid is significantly lower, with most cutting it at $60,000 or less. Those schools may offer loan packages to students in incomes beyond that cap.
Also, the report does not include merit-based scholarships, which students could receive in addition to need-based aid.
For a complete list of schools pledging to make "no-loan" or "limited-loan" financial aid packages, visit www.ProjectOnStudentDebt.org.