Microsoft unveils 'KIN' smart phones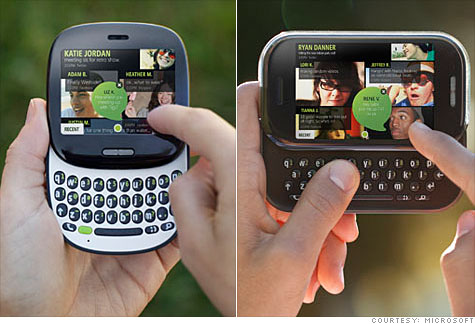 NEW YORK (CNNMoney.com) -- Microsoft unveiled two new smart phones Monday, designed for the new generation of heavy social networking users.
Called the KIN ONE and the KIN TWO, the phones feature many of the standard offerings of smart phones currently on the market: touch screens, slide-out keyboards, Web browsers with pinch-to-zoom, and applications for download. Where the phones differ from traditional smart phones is in the integration with social networks.
Instead of a slew of application-launching buttons, the phones' home screens house the combined feeds from the user's social networks like Facebook, MySpace and Twitter. The new phones also have a green "spot" on the main screen where users can drag photos, Web links and social network messages into and then share with friends.
The KIN phones are designed to fill a niche among teens and young adults who use their phones to text, tweet and post things to Facebook at least as much as they make phone calls.
"We saw an opportunity to design a mobile experience just for this social generation -- a phone that makes it easy to share your life moment to moment," said Robbie Bach, Microsoft's president of the Entertainment and Devices Division, in a statement.
Both phones have essentially the same capabilities. The KIN ONE is smaller and square, while the larger KIN TWO is rectangular, with a higher-resolution camera and video-taking capabilities. The phones will be available exclusively on the Verizon (VZ, Fortune 500) network in May, though Verizon said it would not yet offer an exact release date or price plan.
This is not Microsoft's first foray into smart phones, but it is the first time that the company had a hand in designing the complete ins and outs of a device -- both the hardware and the software. Microsoft partnered with Sharp to design the KIN phones.
Microsoft (MSFT, Fortune 500) has struggled lately in the smart phone space. Its Windows Mobile phones have lost their appeal in a market increasingly dominated by Apple (AAPL, Fortune 500), Google (GOOG, Fortune 500) and BlackBerry maker Research in Motion (RIMM). While Microsoft's smart phone operating system gives it a 15% market share, and places it in third place behind RIM and Apple, it is rapidly losing ground, according to data tracker comScore.
In an effort to change its momentum, the software giant is set to unveil a complete redesign of its smart phone OS, dubbed "Windows Phone 7," by the end of the year. Preliminary reviews of the new OS are mixed, but analysts agree that Windows Phone 7 offers a user interface that is unlike anything else on the market.
Microsoft's strategy shift
The smart phones that Microsoft unveiled Monday don't run Windows Phone 7 or the existing Windows Mobile OS: In fact, they are part of a separate strategy aimed at jumpstarting Microsoft's position in the smart phone space by targeting social networking.
"As we were working on Windows Phone 7, we decided to specifically go after this target audience," said Beach at a Microsoft event in San Francisco. "It was customized for the social networking audience. Windows Phone 7 is about simplifying people's lives. This phone is about amplifying people's social lives."
Some analysts see it as a smart move.
"The thing I like about this is that it approaches this particular segment without dumbing down the experience," said Ramon Lamas, mobile device analyst at IDC. "I have to tip my hat to the folks at Microsoft. They really understand their audience."
Lamas said the KIN's operating system design is similar enough to Windows Phone 7 that it may groom a generation of potential Microsoft mobile customers for the future, though that remains to be seen.
But the separate mobile strategies left other analysts scratching their heads.
"People are confused about this ... because the markets are already crowded," said Laura DiDio principal analyst at ITIC. "The problem of entering niche markets is that the phones are certainly doomed to have a very, very underdog status and a long, hard uphill climb."
Microsoft has had limited success in the past when it has come late to a market. Despite many positive reviews of its fully redesigned Zune HD player last year, the device failed to gain traction in a market that is overly saturated and dominated by Apple's iPod.
Its search engine Bing has also gotten rave reviews and managed to gain some ground. But most of the additional traffic has not come from the dominant Google but from Yahoo (YHOO, Fortune 500), which Microsoft entered into a search partnership with last year.
Microsoft is hoping that its latest phone foray is more like Xbox, which found success despite coming late to the party. When Xbox went to market in 2001, the video game space was dominated by Sony (SNE), Sega and Nintendo, but Microsoft quickly became a major player.
With such limited success entering crowded markets, why take this kind of a stab at smart phones? DiDio said the rise of Apple and Google has Microsoft struggling with its image -- both internally and externally. The company is trying to appear edgy, or at very least relevant.
"Now the buzz is around consumer devices and smart phones," said DiDio. "The perception is that if you're not there, you're not still relevant as a 21st century business."
"I'm not sure I would be investing my time, research and development money in this, but if they don't, Wall Street and pundits will be all over them for not trying to play," DiDio added.