Junk stocks rise from the scrap heap
NEW YORK (CNNMoney.com) -- Franklin Delano Roosevelt famously proclaimed that the only thing we have to fear is fear itself. Looking at how the stock market has been behaving recently though, I think it's now fair to say that the only thing we have to fear is no fear itself.
Wall Street's favorite gauge of market volatility and fear, the VIX, is now trading at its lowest point in nearly three years. It was last hovering around 15 in the summer of 2007.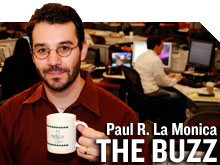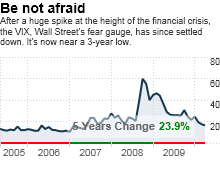 In case you're suffering from amnesia, it wasn't long after that point when the credit markets began to unravel and investors started to become very afraid.
A little bit of fear isn't a bad thing. There's a saying on Wall Street that the market likes to climb a wall of worry. So when investors are blissfully ignorant of potential warning signs about the market and economy -- or worse, willfully ignore those warning signs -- that's the time to be truly concerned.
Along those lines, it's troubling that many speculative stocks, especially in the financial services sector, are starting to pick up steam once again.
Despite continued concerns about how much of a financial drain they'll be on the federal government, shares of the nationalized mortgage buyers Fannie Mae (FNM, Fortune 500) and Freddie Mac (FRE, Fortune 500) are both up about 15% in the past week.
They're not the only case of junk stocks from the financial scrap heap making a comeback. Cue the theme music from "Sanford and Son."
Bond insurer Ambac (ABK) doubled on Monday and is up more than 300% in the past five days! The company reported a surprise quarterly profit late last Thursday and the stock has been on a tear ever since.
Ambac's good news has also helped to lift shares of rival MBIA (MBI) by 15% in the past week. MBIA's stock has now more than doubled this year.
Mortgage insurance stocks have been surging lately as well on the hopes that the worst is over for the housing market and that the rate of bad loans being saved (cured is the jargon that the industry uses) will outpace the number of loans going into default.
The recent extension of the government's Home Affordable Modification Program, or HAMP, is also helping the group. Shares of MGIC Investment (MTG) and Radian Group (RDN) are up about 50% in the past month while shares of PMI Group (PMI) have more than doubled.
Of course, an upswing in the economy and improvement in the credit markets should help Fannie, Freddie, Ambac and the mortgage insurers.
But the big moves in those stocks, combined with massively heavy trading volume (416 million Ambac shares were traded Monday -- nearly 20 times the average over the past 3 months), have to make you wonder if this rally is being fueled more by day traders run amok as opposed to long-term investors.
Many of these companies are not expected to make a profit this year. So investors probably should be cautious and not chase the momentum in some of these suddenly hot stocks.
"There are still concerns that we're not out of the woods yet. With some of these speculative stocks, people are betting on the anticipation that things are improving," said Mark Luschini, chief investment strategist with Janney Montgomery Scott, an investment bank based in Philadelphia.
Not everybody sees it that way though.
"In this environment, portfolio managers are making a bet on the recovery. They're not expecting a double-dip recession so they are investing more aggressively on more speculative companies," said Mike O'Rourke, chief market strategist with BTIG, an institutional brokerage firm in New York."This is actually a sign of increased confidence."
I think both Luschini and O'Rourke make good points. Investors must be concerned about the economy and the fact that the recovery is still nascent and fragile.
That's why Luschini thinks investors should be gravitating more toward blue chip companies with strong balance sheets that can ride out any further uncertainty in the market and economy.
At the same time, the run-up in the financials that were hit so hard during the worst of the Great Depression 2 fears in late 2008 and early last year could be interpreted as more evidence that the markets are returning to normal.
But the problem is that return to normalcy often quickly leads to a state of unreasonable euphoria. With the unemployment rate still incredibly high, you don't have to be an eternal pessimist to envision a scenario where foreclosures continue to mount this year and next year.
So why would you want to buy Fannie, Freddie or the mortgage insurers now that they've all run up so dramatically in such a short period of time?
"I think that the momentum investors, especially in financial stocks, are jumping to this view that the crisis is over," said Subodh Kumar, an independent market strategist with Subodh Kumar & Associates in Toronto. "Housing prices may have bottomed but they're not moving up smartly. I'm surprised that lower quality financials are popping this much."
- The opinions expressed in this commentary are solely those of Paul R. La Monica.