Subway's breakfast express: 5 obstacles to beating McDonald's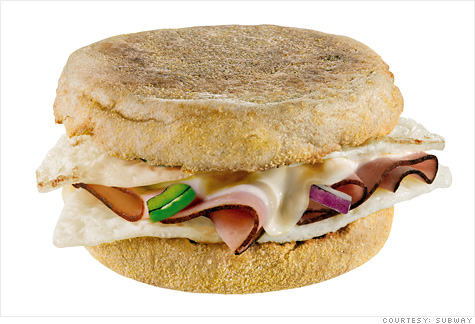 (Fortune) -- It might not be your local diner, or your mom's kitchen, but Subway is making a big bet that it can entice the morning crowd to see egg yolks in the color scheme of its bright yellow sandwich shops.
The chain known for its sandwiches rolled out its breakfast menu nationally last week, becoming the latest player to enter at full scale the hot morning-meal market dominated by McDonald's (MCD, Fortune 500) and its Egg McMuffins and hotcakes.
"Word is clearly out that if you pull [breakfast] off -- and there are many challenges -- profitability is actually pretty good," says Edward Jones analyst Jack Russo.
It's obvious why quick-serve restaurants (industry parlance for fast food) want to get into this space. Breakfast makes up more than 20% of the industry's traffic, according to market research firm NPD Group, and has been the fastest area of growth for some time.
But if dishing out eggs and O.J. is such a good idea, why doesn't everyone do it? Turns out, it's hard for fast food to do breakfast well. Subway, owned by privately held Doctor's Associates, has been testing the idea for years.
Wendy's (WEN) and Taco Bell, which are working on getting back into the morning market, have both tried it unsuccessfully in the past, axing their early shifts when they didn't meet expectations. And McDonald's, with its $1 menu at breakfast, has signaled that it plans to fiercely protect its early bird crowd.
Unemployment has softened demand for breakfast on the go, which is mainly driven by workers stopping in to pick up a bite on the way to the office. Morning meal consumption dropped 2% for the year ending February 2010, says NPD. But that was better than the steeper decline at similar restaurants for lunch and dinner, and industry experts predict breakfast will be the first meal to make it back.
Despite Subway's popularity in the lunchtime sandwich world, analysts say that cooking up a winning breakfast proposition won't be easy for the chain. Here's what they say needs to happen to make it work:
Break some eggs to break prospective customers' routines
People are creatures of habit, especially when they're still waking up. Subway executives admit that getting morning people to think of Subway rather than their regular corner deli or drive-thru will be one of the biggest challenges. Even that's not enough: the restaurants can't just serve customers; they have to get them hooked. Subway's strategy here is to start with a low price-point: the $1.75 Egg Muffin Melt.
Be everywhere the customers are
People want their morning meal to be fast and easy. One advantage here for Subway is that it has locations everywhere. With more restaurants in the U.S. than McDonald's, it's hard not to pass one on the way to work. A strike against it: Subway restaurants have almost no drive-thrus, which Russo says are a huge propeller of business for fast food establishments -- especially when hungry breakfast seekers don't want to leave the car between their home and their desk.
Stick with the program
Building a customer base for breakfast takes time. That might be a problem for Subway, which is highly franchised. Typically, franchisees don't have the patience or resources to absorb short term losses in order to build up business for the long haul.
Yet, some analysts say that keeping franchisees happy may be one reason Subway launched a breakfast menu. The company had stellar same-store sales in 2009 thanks to the $5 footlong, says Stifel Nicolaus analyst Steve West. "They've got to come up with something to top that," he adds. "This is their opportunity to get more sales out of the box again."
Subway: Not just for lunch anymore. Or is it?
Subway has to get people to think of its restaurants as more than a sandwich place. "There's a credibility issue -- do people see it as a place that can offer breakfast," says Bernstein analyst Sara Senatore. "It's not like they have a griddle."
To help boost interest, Subway is leveraging what customers like about it for lunch -- healthy, fresh, and made to order. "Build your better breakfast," is the new slogan that's supposed to capture that attitude. Subway also has a history of strong marketing and is running two TV ads to get the word out. Getting a morning crowd might also help its lunch business. Busy office workers stopping by in the morning might just pick up a sandwich for later.
Piggyback on other breakfast brands
Since Subway's not known for breakfast, it's collaborating with a brand that is by serving Seattle's Best Coffee. Burger King (BKC) is doing the same. Taco Bell, which says it plans to launch its breakfast nationally in 2011, is hoping an affiliation with Jimmy Dean, Seattle's Best, Cinnabon, Quaker, and Dole (DOLE) fruit juices will erase the Gordita from customers' pre-lunchtime memory.
In the end, cooking up the eggs might be the simplest part of the venture. "There aren't a lot of things you have to do right," says Senatore, "but you have to do it [all of it] well."