What's really behind the Toyota debacle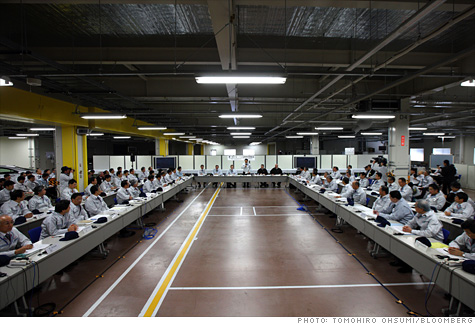 (Fortune) -- At 77, Hiroshi Okuda, chairman of Toyota, is still causing trouble for the automaker.
He is being painted, most recently in Wednesday's Wall Street Journal, as both the architect of a global expansion that proved ruinous and an enemy of the Toyoda family.
But blaming Okuda for what has gone wrong at Toyota (TM) recently hardly gets to the root cause of the company's problems.
For that, Toyota executives will have to look deeper into themselves. If they are diligent, they will find an anachronistic management structure that has proved inefficient and counterproductive, and could be potentially ruinous.
Toyota is basically organized the same way it was half-a-century ago when it first began selling cars in the U.S. None of its operations are functionally integrated -- and all report back to Japan. It is a caricature of a chimneyed company with vertical structures and no coordination.
While it may have suited the much smaller company of a generation ago, it no longer does. Toyota has expanded its presence in the U.S. significantly.
Indeed, if Toyota's North American operations were pushed together, the company would resemble one of the Detroit Three, with engineering, manufacturing, purchasing, and sales all housed under one roof. If any of those functions detected, say, a quality problem with an accelerator pedal, it could quickly relay the news and work with the others until a solution was found.
That kind of functional integration is one of the big reasons for the current success at Ford (F, Fortune 500). CEO Alan Mulally holds a meeting on Thursdays at which all of his top managers attend and at which they share information.
At Toyota, by comparison, engineering, manufacturing, purchasing, and sales report back to headquarters in Japan. Only there is the information disseminated among regions and functions.
It is an organizational scheme more befitting of a tiny manufacturer from a developing country than a global behemoth with aspirations to dominate the industry.
So when Jim Lentz, the American head of Toyota Motor Sales, testified that he had no power to order the recall of a vehicle, he was merely stating a longstanding fact of life at Toyota. He had neither the necessary information nor the authority to do so.
Executives at other automakers were stunned. As one competitor said, "Jim Lentz saying the American management team had no say in recalls was the thing that surprised me most. There was not a lot of cross divisional communication."
Toyota's archaic management structure has been an issue with its American executives for at least two decades.
According to one insider, action has been delayed in part because of a power struggle that pits the powerful U.S. sales arm against other divisions of the company.
Most recently that friction has been reflected by a dispute over the role of Toyota Motor North America, the New York-based holding company for North American operations.
In an effort to speed integration, a respected executive, Jim Press was moved from his job as head of Toyota Motor Sales to head of Toyota Motor North America.
In September 2006, Press made a presentation to Toyota's corporate board asking that his North American organization be kept informed of quality efforts by strengthening communication with Toyota Motor Sales, Toyota Engineering and Manufacturing, and company headquarters in Japan.
Presciently, Press was worried about safety. He detected a steady rise in Toyota's safety recalls, which, he warned, were denting customer loyalty.
To improve the company's relationship with NHTSA, the government's car safety agency, Press argued for better communication between North America and the company's technical side: "We need faster information flow, and more technical support when hot issues arrive."
Press's plea fell on deaf ears and Press became frustrated. Feeling he had been made into a "window worker," a Japanese term for an older employee with no responsibilities, Press left Toyota to join Chrysler a year later.
Belatedly, Toyota has shifted more power to Toyota Motor North America by appointing a popular executive, Yoshimi Inaba, to oversee both it and Toyota Motor Sales.
Inaba is said to have the ear of Toyota President Akio Toyoda. So far, however, any reforms he has put in place have been overwhelmed by the sudden acceleration recall crisis.
Toyota seems to have learned one lesson from all this: it now moves faster when controversies arise. It halted sales of the Lexus GX 460 within hours after Consumer Reports labeled it a safety risk.
Now it needs to move just as fast to fix its dysfunctional management structure.