How not to waste your tax refund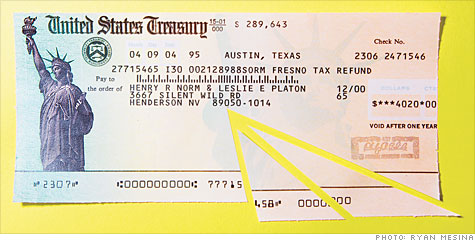 (Money Magazine) -- What's that in your mailbox (or directly deposited into your checking account)?
Woo-hoo -- your refund from the IRS! But that giddy feeling can lead you to squander most or all of the dough on stuff you don't really need. Here are three ways to make it easier to save at least some of it.
Break the money into parts.
Immediately put the lion's share into your savings account and divide the rest -- in cash -- between yourself and your spouse. New research by Amar Cheema and Dilip Soman, professors of marketing at Washington University and the University of Toronto, respectively, indicates that this move helps make you thriftier.
When money is split up, you need to ponder which pile to draw from, making it less likely you'll blow the whole amount. Spend just enough so you don't feel deprived (which itself is a recipe for overspending).
Make it harder to shop online.
The computer has become a huge source of temptation to spend. So delete bookmarks for shopping sites you visit. Take yourself off their e-mail lists. Disable "one-click ordering." Adding just a few steps more to a task makes people less likely to do it.
Return the dough to the IRS and prepay your 2010 taxes.
Yes, it's an interest-free loan to Uncle Sam, but you're making almost nil on your savings account these days anyway. And sending the money to the Treasury is a heck of a lot better than frittering it away.