America's costliest condo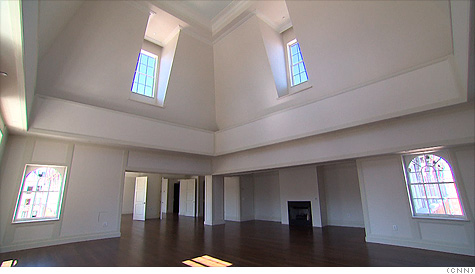 NEW YORK (CNNMoney.com) -- There's a condo for sale in Manhattan and if there's a more expensive apartment on the market, we'd like to see it. Seriously, we would really like to see it.
In the Mark Hotel, one of New York's best, are 100 rooms and 50 suites plus eight condominium apartments. At the top is the pièce de résistance: a 9,037-square-foot, five-bedroom, eight-bath, duplex penthouse, with a huge terrace. The price: $60 million.
At that price, the listing, which is being handled by the Corcoran Sunshine Marketing Group, comes in at a whopping $6,600 a square foot. To put that in perspective, the average 2,200-square-foot home being built today would sell for more than $14 million.
The Mark is on the Upper East Side of Manhattan, and there are views from every room: The skyscrapers of Midtown Manhattan stretch out from the rooms on the buildings south side; the west views include Central Park and the line-up of stately apartment buildings on Central Park West; uptown, the rest of the Upper East Side runs north, and the east views are of tony buildings on Madison and Park Avenues and beyond. The mayor of New York, Michael Bloomberg, has a town house a couple blocks away.
The building qualifies as pre-war, which is in demand for its virtues of fine details, eccentric dimensions, solid walls and wonderful workmanship.
"It's especially nice for someone with an art collection," said Sunshine. "Unlike many modern buildings, which have so much glass, there's a lot of wall space for paintings."
Despite the building's age, built in 1928, the apartment does not come cursed with the bane of many pre-war buildings: poor mechanicals. It has been completely upgraded with new wiring, gas lines and plumbing. The plumbing, in fact, is unusually generous.
Not only are there eight baths, but there are several wet bars as well. Plus, according to James Sherwin, the hotel's dapper general manager, there are four separate water lines come into the apartment.
"There's a hot, a cold, a steam line and a chilled water line," he said. "Very nice for drinks."
Several spaces stand out. The living room is 48' by 34' with 26' ceilings tucked in under a mansard-roofed space that once held the building's water tank. It makes a grand entertainment area with a modern fireplace in a recessed cove. The cove is easily big enough to hold a band of, say, eight pieces. There's a reception room next to it that guests can enter directly from the elevator, which only stops on this, the 16th floor, with a key.
The master bedroom suite consists of his and her baths, his and her closets, even his and her bedrooms, which are separated by a partial wall with fireplace that has hearths on both sides.
Her side got the bigger closet space, the bath with the soaking tub, oversized shower stall and double-sink vanity. His got the smaller bath and closet. At least his got the larger of the two bedrooms in the suite.
The baths? Gorgeous, with gin-clear glass shower stall doors, fancy marble floors, black-and-white striped in his, white in hers, and cheery sinks and vanity. All the fixtures are high end: The mirrors even have built-in television screens.
Lovely too, is the huge terrace. It's reached either by stairway or private elevator. Step outside on the limestone flag terrace and the city is below your feet. Views include an early 20th century limestone mansion on Fifth Avenue, once owned by James Duke, the tobacco mogul. Across the park is the Dakota, where John Lennon lived and died. Look downtown to Rockefeller Center.
A key selling point for the condo is the services provided by the hotel. An owner can choose from a range of service options, according to Sherwin, and get a quick response to any other little problem, or whim, they may have.
Sherwin has experience dealing with the desires of those who have everything: He used to work with his brother, an event planner for the Queen of England.
Another main attraction, for Sunshine, is the Jean-Georges Vongerichten restaurant in The Mark's lobby. He's one of America's top chefs and, yes, the restaurant provides room service.
Imagine lying in bed and ordering. "Oh Jean-Georges, send up a caviar with warm blini, stone crab claws with mustard sauce, pumpkin ravioli and a prosciutto wrapped veal chop with roasted peppers to the 16th floor please."
Don't forget the champagne.