Ganging up on Google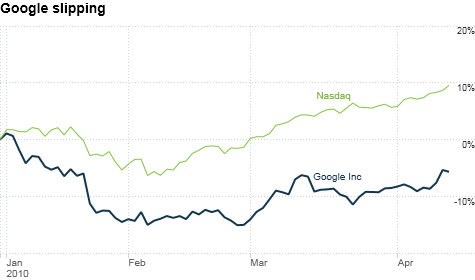 NEW YORK (CNNMoney.com) -- After gaining near-universal admiration for its moral stand against China just under a month ago, Google quickly got knocked off that pedestal.
Last week, the search giant was hit with two major lawsuits over Google Books and Google Buzz, three public advocacy groups jointly filed a privacy complaint against Google with the Federal Trade Commission, and, most critically, the FTC readied an antitrust challenge to Google's deal for mobile advertising company AdMob.
"When you get to be the size of Google, you can expect legal battles to be constant," said Andrew Frank, Google analyst at Gartner. "This is going to be a continuing source of friction for them."
Whether or not Google's legal woes ultimately hurt the company's long-term profitability or stock price remains to be seen.
"The AdMob episode highlights the fact that Google may be entering a difficult phase with respect to its attempts to expand into adjacent businesses," said Tim Boyd, senior Internet analyst at MKM partners, in a note to investors. "Mobile advertising is of particular importance to Google's longer-term growth strategy. The loss of AdMob would serve as a significant setback."
Boyd held his rating on Google at "neutral" because "increased antitrust risk could remain a significant sentiment overhang."
Any risk that Google may face more antitrust issues could cause a big wrinkle in the company's growth prospects, according to Richard Fetyko, analyst at Merriman Curhan Ford.
Google already dominates the search market, and Fetyko says there are only a couple real growth opportunities: Mobile is one, and display ads are another. Google is still a relatively small player in both those markets, but strong growth in either space could raise regulators' eyebrows, he said.
Still, others think that this latest slurry of legal trouble is not much to worry about, especially because Apple may have inadvertently helped Google's cause. Last Thursday, a day after the news came out about the FTC's antitrust concerns, Apple (AAPL, Fortune 500) introduced its new mobile advertising business, called "iAd," which will compete directly with AdMob.
That changed most analysts' sentiment about the FTC's chances against Google.
"Though AdMob is the mobile ad leader, it is only generating $100 million of revenue a year in a market that takes in $30 billion in the United States alone," said Trip Chowdry, analyst at Global Equities Research. "The fact that Apple came up with its own ad platform shows the space is evolving. It will be difficult for the FTC to block the deal."
As for the two lawsuits and the privacy concerns, most analysts just shrugged their shoulders.
"I think there's merit to comparisons with Microsoft (MSFT, Fortune 500)," said Frank. "There's a sense that the incumbent is always the biggest target. But none of this has the nature of a fatal setback."
"It's irrelevant; this is just the cost of doing business," said Chowdry. "I expect solid numbers from Google in the future. Investors should only think about Google's innovations."
Google is set to report its first-quarter financial results on Thursday after the bell, and profit and sales are both expected to soar. The consensus estimate of analysts surveyed by Thomson Reuters is for earnings per share of $6.58 on revenue of $4.9 billion, up 21% from year-ago levels.
Shares of Google (GOOG, Fortune 500) rose $1.33 to $588.10 Wednesday. Google's stock has failed to keep pace with the tech-heavy Nasdaq Composite this year. While the Nasdaq has risen 9.5%, Google has fallen 5.6%.
Investors initially sold off the company's stock during its standoff with China in January, as many viewed the announcement as turning Google's back on 700 million Internet users. When it became clear that Google was not leaving behind China's mobile market, Google's shares gained back some lost momentum.