Rebuilding Florida - one house at a time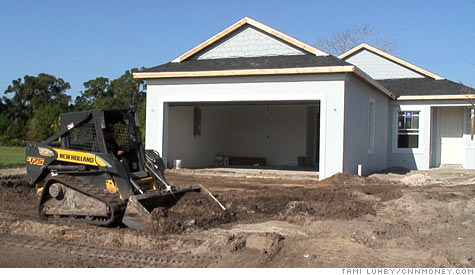 BRADENTON, Fla. (CNNMoney.com) -- Florida's homebuilders are daring to put their hard hats back on.
Though the state is still digging out from the overbuilding excesses of the housing boom, home builders are ramping up their operations for the first time in four years. They are buying land, hiring workers and actually selling homes.
Most of the action is happening near larger cities, where the jobs are found. Thanks to these pockets of strength, building permits for single-family homes are up 60% in the first two months of 2010 compared to the same period a year earlier, according to federal statistics.
But the homes coming on the market are quite different than those that rose during the boom. They are smaller, plainer and, most importantly, cheaper.
Gone are the 3,000-square-foot, four-bedroom mini-mansions that came with granite countertops and stainless steel appliances. Now, builders are offering 1,500- to 2,000-square-foot homes with three bedrooms. Granite and stainless steel are upgrades, not givens.
"People aren't looking for all the jewel box features we offered in 2005," said Pat Neal, president of Neal Communities in Sarasota. "We're building a smaller home in response to the market."
So who's brave enough to buy? Predominantly first-time buyers who are taking advantage of the federal tax credit, and retirees who are finding Florida affordable once again.
These two groups in particular were priced out of the market during the boom and were afraid of plunging house values during the bust. Now, however, these would-be homeowners are ready to sign contracts because they have more confidence that the bottom is near.
Who isn't part of the buying trend: Investors, who helped drive up home values just a few years ago.
The Sunshine State's fledgling revival mirrors the stabilization taking place across the country. Though still weak, applications for building permits nationally hit a 17-month high in March, beating analysts' estimates.
A shortage of homes for sale in many locales -- something not heard of in years -- is also pushing builders back into the market. Deep discounting helped clear much of the excess. So where once there were years worth of inventory, now it would only take months to sell through all the available properties. Neal's Sarasota community, for instance, had 1,700 homes on the market at the end of last year, as opposed to 8,000-plus for much of 2006.
"The inventories of vacant homes is low enough that every time they sell a house, they have to build a house to keep inventories from falling too low," said Brad Hunter, chief economist with Metrostudy, a consulting firm that specializes in residential real estate.
To be sure, the picture isn't entirely rosy. Home building is still a pittance of what it was during the early part of the last decade. And companies are still moving slowly, constantly monitoring sales patterns and economic trends. Their biggest concerns remain a weak job market and a potential flood of foreclosures if the federal government's modification program falls short.
New homes rising
Builders are actually surprised at the brisk pace at which their new houses are selling.
Take K. Hovnanian's Harbour Isles project in Apollo Beach, just south of Tampa. The builder has sold 12 houses in eight weeks to young professionals, retirees from up north, as well as a few real estate agents. Demand has been so strong for the homes, which start at 1,850-square-feet, that K. Hovnanian recently upped the opening price by $10,000 to $169,990.
"We're back to families buying with a longer-term view," said George Schulmeyer, president of the national builder's West Coast division. "They're confident that if we're not at the bottom right now, we're close."
This is quite a turnaround for Schulmeyer's group, which had retreated to building just over 100 homes in only four communities in 2009, down from 900 houses in 20 locales during the peak mid-decade. This year, he expects to expand to at least 10 communities and build more homes than he did in 2009.
Schulmeyer's counterpart in Southeast Florida is seeing the same trend. Mark Hodges is planning to build in three communities this year after spending recent years just selling off hundreds of homes in inventory.
Now, he has to build once again to meet the demand from would-be buyers. He already has more than 200 people on the waiting list to see model homes in the K. Hovnanian's Four Seasons community in Delray Beach that will open in May.
"We had mothballed several projects," said Hodges, whose offerings range from the high $100,000s to high $400,000s. "We've been waiting for the time to be right to come back to the market."
One reason why builders are willing to gamble on building new homes is that their costs have plunged. Land and labor is so cheap that they can afford to take a few risks.
Neal has seen his building costs drop 40% in recent years. Lots that went for $370,000 are now priced at $42,000. Construction workers are now hanging outside his office looking for work. And suppliers are open to haggling -- a $12 door handle now goes for six bucks.
These bargains, along with the demand for lower-priced properties, prompted Neal to shift his business model. He now constructs starter homes in the $100,000 price range. That's a far cry from five years ago, when his average sale price was $527,000 and he didn't market anything below $300,000.
Today, Neal is offering a 947-square-foot house, smaller than those he built in 1968. Instead of stainless steel bathtubs with a ceramic finish, he provides acrylic. Stainless steel appliances are now an option. And the homes are more streamlined with fewer variations in ceiling heights, for instance.
"We have to go where the money is," he said.
The company has sold 66 homes so far this year, up 50% from the same period in 2009.
The third-generation builder is expecting to sell about 350 houses this year, up from 263 in 2009.
Inexpensive homes are the only ones that have gone up in demand, according to Metrostudy. In the Tampa region, for instance, there were 734 homes started in the sub-$150,000 price range in the fourth quarter of 2009, up from 241 three years earlier. But builders are only constructing 10% of the homes in the $250,000 to $300,000 range that they did during the boom.
This has attracted first-time homebuyers and older purchasers who couldn't afford -- or didn't want -- to buy during the boom. The government's first-time homebuyers' tax credit has certainly helped, too.
"Now the home prices have come down to where they can afford to buy," said Tony Polito, Metrostudy's director for the Tampa Bay market.
More building means more jobs, too. Neal has hired 10 people since early December and is looking for four more. Schulmeyer brought on 11 people over the past six months in almost every department, including sales and land prospecting.
Managing risks
Though they are optimistic, builders aren't blind to the risks.
Unemployment is top of mind, they say. Florida has one of the nation's highest jobless rates, at 12.3% in March, according to federal data. Construction won't really pick up until the economy recovers and could slow if it sours.
Also, they are closely watching the foreclosure situation. The number of foreclosed homes coming on the market has slowed as President Obama's loan modification program ramps up. However, many experts say the administration's plan won't help as many people as anticipated, which could lead to a flood of foreclosures hitting the market in coming months. That could drive down prices for all homes in the area.
Builders are also anxiously waiting to see what happens when the $8,000 first-time homebuyers tax credit expires. Buyers have been rushing to sign contracts by the April 30 deadline. Neal, for one, says he's expecting a "strong decline" once the program ends.
At K. Hovnanian, Schulmeyer monitors his sales weekly and adjusts the pace of construction accordingly. In many places, he's just dipping is toe in the water, placing options on lots, which could cost a mere $500 to $1,000 a pop. If there's interest, he builds. If not, he hasn't lost much.
"Our risk is a small deposit and the model," he said.