Fiat's Marchionne and Ford's Mulally: Two CEOs, one management style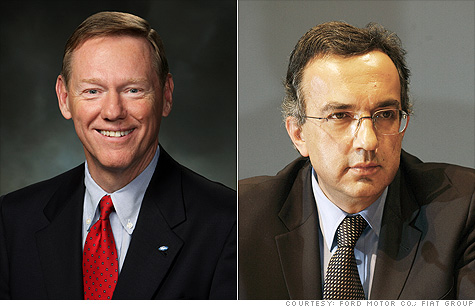 (Fortune) -- Fiat CEO Sergio Marchionne will be back in the spotlight Wednesday when he is due to unveil a five year business plan for the Italian automaker and its American partner, Chrysler.
The plan is expected to provide new details about how Fiat and Chrysler will integrate their engineering, manufacturing, marketing, and distribution.
If Marchionne follows past practice, his plan will be bold, unconventional, and occasionally outrageous. And critics will accuse him of being both insincere and unrealistic.
In fact, an analysis of Marchionne's management style shows that he has much in common with the most successful American automotive CEO of the last 20 years.
Sergio Marchionne, meet Alan Mulally:
Marchionne runs Chrysler with 26 direct reports, an unusually large number, because he believes it flattens the organization and leads to faster decision making. He demands complete openness, fast communication, and accountability.
Mulally also has a lot of direct reports. He sits with his 18 top executives in a meeting every Thursday. "I included every functional discipline," he told Fortune in 2009, "because everybody in this place had to be involved and know everything." If they have a problem, Mulally can easily hold them accountable because he will see them the following week.
Marchionne arrived at Fiat from outside the auto industry, and doesn't try to pass himself off as an expert. Instead, as he told the Harvard Business Review in 2008, "A lot of what I do is challenge assumptions -- which often looks like you are asking stupid questions."
Mulally also arrived at his current position from outside the industry and uses his status to cut through anachronistic practices. For instance he is determined to reduce Ford's dependence on light trucks. "Everybody says you can't make money off small cars. Well, you better damn well figure out to make money, because that's where the world is going."
Marchionne gave some relatively young people, in terms of both age and experience, a huge amount of scope. What they lack in experience, they make up for in energy and invention.
Mulally moved up younger executives like manufacturing boss Joe Hinrichs, still in his early 40s, solidified the positions of Americas head Mark Fields before he turned 50, and expanded the responsibilities of seasoned veterans like Derrick Kuzak.
Marchionne believes strongly in the importance of styling. "We used to make too many ugly cars," he told the Economist in 2008. "We thought we had the right to do whatever we wanted. It was arrogance."
Mulally also takes a strong role in design. He insisted that, just as in a Boeing airplane, all Fords have the same controls in the same places. The first new car developed during his tenure, the Ford Taurus, is far more stylish than its predecessor. It wears a sharply lower roofline and boasts a more aggressive stance.
As much as they employ similar management styles, Marchionne and Mulally differ in matters of strategy. Marchionne devotes a lot of time to issues around marketing and brands. He has tried to resuscitate such fading names as Alfa Romeo and Lancia and wants to reposition Chrysler's car lines. Mulally thought Ford needed to focus on the Ford brand alone, and sold Volvo, Jaguar, and Land Rover because they distracted from the effort.
Marchionne believed that Fiat was too small to compete on a global scale so he arranged the linkup with Chrysler. Ford is twice the size of Fiat, so Mulally has moved more slowly forming alliances.
Nor could their personal styles be more different. Marchionne presents himself like a '60s intellectual from a Fellini movie, with his baggy sweaters, longish hair, and cigarettes. He rations his public appearances and gets movie star treatment where shows up.
Mulally, on the other hand, has the outgoing personality of a scout leader, and is invariably attired in a blue blazer, gray slacks, and red tie. His permanent expression seems to be a tooth smile.
But the similarities of these two idiosyncratic leaders far outweigh the differences. Marchionne says his job is CEO is not to make business decisions -- it is to push managers to be leaders.
In the end, Mulally's biggest job is to do the same thing: identify the one manager who can become the leader of Ford Motor after he leaves.
If Marchionne can save Chrysler and grow Fiat, he could join Mulally in the top ranks of auto CEOs.