No job for years and still looking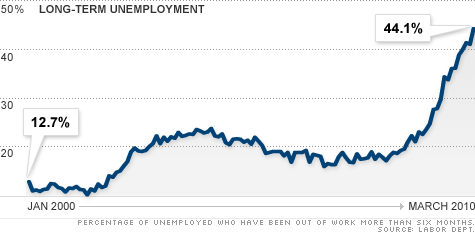 NEW YORK (CNNMoney.com) -- John Miller wasn't too nervous when he lost his job in the mortgage industry in June 2008.
The worst of the financial crisis was still months away. While the subprime mortgage industry had already imploded, there was still a debate at the time whether a recession had started. Job losses were steady but not dramatic.
Miller lost his job when Deutsche Bank shut down a unit making government-guaranteed FHA loans, but he had found work in the past when an employer had closed a unit. He thought that even if it took a few months to find another job, something would turn up.
Almost two years later, he's still looking.
"It's unfathomable to me," said Miller. "Never in my wildest dreams did I think I'd be coming up on two years without a job."
Miller is exhibit A of why this economic downturn feels so much worse to most than any other since the Great Depression. Long-term unemployment is at a level that dwarfs anything since the government started tracking the problem shortly after World War II.
Of the nearly 14 million people now counted as unemployed, a record 44% have been out of work more than six months. Before the most recent recession, that figure had never reached 24%.
There are various theories about why long-term unemployment has reached historically high levels.
Heidi Shierholz, labor economist with the Economic Policy Institute, points to three major factors that have caused the unprecedented long-term unemployment problem -- the length of the recession, an older work force and the battered housing market, which makes it harder for people to relocate and find a new job.
The simple length of the downturn, with job losses in 22 straight months from January 2008 through October 2009, left too many job seekers and too few companies hiring for too long a period.
"There's just a lot of people out there looking for jobs," said Sherry Eckert, who lost a small business lending job at Washington Mutual in January 2009, after the nation's largest thrift failed and was taken over by JPMorgan Chase.
Eckert said she knew she was facing a long stretch of unemployment, but never imagined it would last more than a year. "I figured it would be six to eight months, something like that," she said.
Older workers, longer time out of work. Shierholz said the exceptionally large number of older workers who are unemployed is also a major factor.
Statistics show it is tougher for anyone (regardless of age) who has been unemployed more than six months to find work.
But Shierholz' analysis of 2009 data shows unemployed people aged 55 and older are about 17% more likely to be out of work for longer than six months than their 25-to-54-year old counterparts.
"Older and more educated people are less likely to become unemployed, but once you become unemployed you're more likely to be unemployed for a long period of time," she said.
Some of that might be due to employers being reluctant to hire older workers.
"I'm 55-years old. I know these folks are thinking 'This is a guy who should be thinking about retirement,'" said Richard Travis, who lost a job in human resources at Blue Ridge Paper in Richmond in May 2008 after corporate merger.
But older workers also often have more financial resources to wait out a long period of unemployment than a younger worker. So they may be less inclined to settle for an entry-level job.
Many employers also don't like to hire someone they believe is over-qualified for a position, which also works against older workers.
"Anyone like me in their 50's who is any good was making far more than many of these job openings pay," said Steve Greenlaw, who lost a six-figure management job at auto parts maker Delphi at the end of 2008. He said he has trouble getting interviews for jobs once recruiters find out his former salary.
"They worry that even if you take the job, you're only going to stay till something better comes along," he said.
Housing problems strike again. In the past, a strong housing market gave many people a chance to move to where the job situation was better. But with many homeowners owing more on their mortgage than their home is worth, it's not so simple to just sell the house.
Miller said that's one of the problems he faces in his job search. He estimates he owes $75,000 to $85,000 more than he could hope to recoup from a sale of the home he bought in July 2005.
"My wife and I have talked about relocating, but I'm so upside down on my house, we couldn't sell it if we had to," he said.
Then there is the simple fact that long-term unemployment has been on an upward trend for decades -- even when the economy was in good shape. So it's not surprising that long-term unemployment spiked to unprecedented levels this time around.
Unfortunately, few see signs of improvement ahead, and those who never thought they would be out of a job for so long are left wondering when their nightmare will end.
"I always have found jobs fairly quickly, and I'm not one of the people who says 'The economy is bad, I'm not going to find a job,'" said Diane Hansen, who has been unemployed since July. "So I wasn't too worried when I lost my job. Little did I know. It's been very humbling."