GM unveils SUV version of the Volt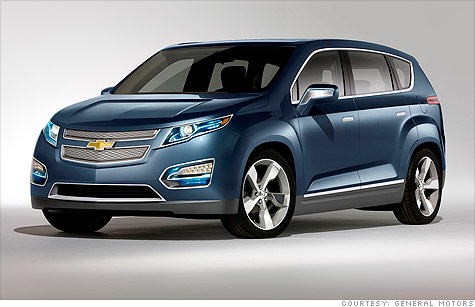 NEW YORK (CNNMoney.com) -- General Motors is preparing to unveil a five-seat crossover SUV based on the Chevrolet Volt electric. The vehicle, which GM is calling a "concept," was unveiled at a car show in China.
"The five-passenger multi-purpose crossover concept demonstrates the potential of the Voltec propulsion system by utilizing the same foundation as the Volt, for gas- and tailpipe emissions-free electric driving," GM said in a statement.
Voltec is GM's name for the extended-range electric propulsion system used in the Chevrolet Volt.
Special attention was paid to aerodynamics designing the Volt MPV5 concept vehicle, GM said. The front of the vehicle is very similar to that of the Chevrolet Volt. Like the Volt, it has a closed grill to optimize air flow around the vehicle.
The Volt MPV5 also has a dual sunroof panels in the roof and large 19-inch wheels.
The MPV5's tall, wagon-like body provides more interior space than the Volt sedan. The production version of the Volt, which is due to go on sale in the United States by the end of this year, seats only four. It has 30.5 cubic feet of cargo space behind the back seats, compared to the Volt's maximum cargo space of 11 cubic feet.
As in the Chevrolet Volt car, the MPV5's wheels are powered by electricity coming from a large lithium-ion battery. The MPV5 can drive up to 32 miles in city traffic on a fully charged battery. A small gasoline engine generates electricity for longer drives.