Good isn't good enough for tech stocks
NEW YORK (CNNMoney.com) -- The latest batch of quarterly earnings reports from many leading technology firms couldn't have looked any sweeter.
Google reported a nearly 40% profit jump. IBM's earnings were up 13%, which is pretty impressive for a company as mature as Big Blue. And Apple blew away Wall Street's earnings estimates with a stunning 90% increase in profits from a year ago.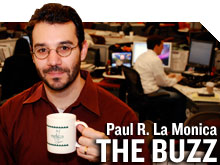 Still, most tech stocks (Apple (AAPL, Fortune 500) was a notable exception) took a hit after reporting their latest results. Google (GOOG, Fortune 500) and IBM (IBM, Fortune 500) both fell.
On Thursday, other tech blue chips, such as eBay (EBAY, Fortune 500) and wireless chipset company Qualcomm (QCOM, Fortune 500) both plunged despite reporting better-than-expected profits Wednesday evening.
What gives? Well, a lot of it has to do with unreasonably high expectations. Google, for example, appeared to fall victim to the somewhat strange phenomenon on Wall Street known as the whisper numbers, unofficial earnings estimates that are usually higher than the consensus forecasts.
But uninspiring guidance is also hurting some techs. The what-have-you-done-for-me-lately culture we live in is as pervasive in Silicon Valley as it is on Wall Street.
Beating earnings estimates for the most recently completed quarter is all well and good -- but it's quickly dismissed if a company gives a tepid outlook for the next quarter or two. That seems to be the reason why shares of eBay and Qualcomm were both getting rocked.
Still, there is no denying that the technology sector appears to be clicking (pardon the Internet pun). And that's another encouraging bit of news for the overall economy.
Big business spending on tech again
"The argument can be made that this is a sign of strength not only for tech but all of Corporate America," said Andrew Fitzpatrick, director of investment with Hinsdale Associates, an investment firm in Hinsdale, Ill. "Companies are reporting real revenue growth. Businesses are starting to spend a little more and should increase their technology budgets."
The healthy earnings reports from Google, IBM and semiconductor leader Intel (INTC, Fortune 500) -- which reported that profits quadrupled on record revenue -- show that big businesses are willing to step up and spend on search advertising and "stuff" like servers, software and chips.
John McAdam, CEO of F5 Networks (FFIV), a maker of products that manages Internet traffic, said that there has been a notable uptick in demand from its large telecom and Internet company customers as of late.
McAdam said that there was a "pause" in spending by many large businesses between December 2008 and April of last year -- the height of the panic about the state of the banking system, financial markets and broader economy.
But F5, which competes with Cisco Systems (CSCO, Fortune 500), reported Wednesday night that its latest quarterly sales rose 34% from a year ago while profits surged 74%.
"Corporate spending on technology is increasing," McAdam said. "Since last April, we've been seeing growth and momentum building and I think that momentum will continue."
And so are consumers
It's not just businesses that are spending on tech. Apple's blockbuster results are an indication that consumers have an appetite for tech gadgets and services too.
Strong results from DVD rental service Netflix (NFLX) and SanDisk (SNDK), which makes flash memory chips used in MP3 players, digital cameras and other devices, also show that consumer spending on tech is fairly robust.
Technology was clearly not recession-proof. But in a time when many consumers are still feeling anxious about the economy, some are growing more willing to spend on devices that aren't exactly cheap.
It just goes to show that for many, technology is becoming less of a discretionary purchase and more of a staple.
"More people realize that gadgets make them more effective. Some tech products may not be indispensable but they do make [consumers] more productive and improve their daily lives," said Dean Garfield, president and CEO of the Information Technology Industry Council, a Washington, D.C.-based trade group for the tech sector.
"As consumers hunker down and think about what they are going to buy, they realize that some tech items are a good investment and value," he added.
Of course, the tech sector's good news isn't exactly a secret -- which may also help to explain some of the unenthusiastic responses to tech earnings in the past few weeks. The Nasdaq, after all, is up nearly 10% this year and more than 50% in the past 12 months.
For that reason, Fitzpatrick thinks that investors would be wise to stick with the sector's biggest companies. His firm owns Microsoft (MSFT, Fortune 500), Intel and IBM. He said all three trade at reasonable valuations and he likes the fact that they all have strong balance sheets -- lots of cash and little debt.
This should enable them to take advantage of the recovery in spending since they'll be in the best position to keep investing in research and development and make acquisitions.
"They all withstood the downturn. Now they are ready to capitalize," he said.
- The opinions expressed in this commentary are solely those of Paul R. La Monica.