Ursula Burns launches Xerox into the future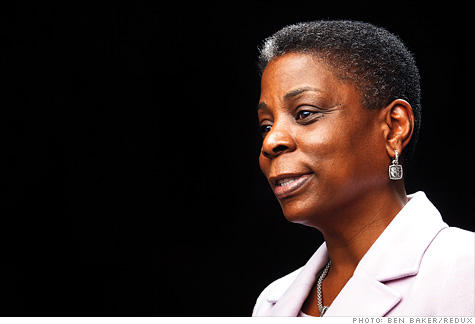 (Fortune) -- Talk about bold. Just weeks after taking over as Xerox's CEO last July, Ursula Burns announced the biggest deal in the company's history: the $6.4 billion acquisition of Affiliated Computer Services, an outsourcing firm most people had never heard of. Xerox needed dramatic action.
After coming back under CEO Anne Mulcahy from its struggles in 2000, the company had to go on offense and advance its strategy for a digital age. It was a tall order at an outfit best known for putting images on the ultimate analog technology, paper.
Being bold has never been a challenge for Burns, 52, a mechanical engineer who got noticed at Xerox (XRX, Fortune 500) because she often spoke up bluntly in a famously -- and overly -- genteel culture. She becomes the first African-American woman to run a Fortune 500 company and succeeds Mulcahy as chairman in May.
Burns finds all that gratifying but is focused on further transforming Xerox; the stock price is barely half of what it was three years ago. She talked recently with Fortune's Geoff Colvin about changing Xerox's culture, what she learned in the recession, America's desperate shortage of engineers, and much else. Edited excerpts:
In a nonstop infotech revolution, Xerox's long-term strategy is a really interesting issue. So let me ask you Peter Drucker's famous question: What business are you in?
We're in the business of enabling our clients to focus on their real business while we take care of their document-intensive business processes behind the scenes. I'll use Fortune as an example. You're not in the business of printing a magazine. What we see about Fortune is the printed magazine.
That's right -- we don't own any printing presses.
But without someone who could supply you with that solution, Fortune would be less than it could be. What we do is manage document-intensive business processes for our clients around the world so that they can focus on what they really do.
We do that by applying technology. We do it in a global way, so that if you have locations around the world and you want to communicate with your people in a fairly consistent way, I can do that for you. It will look the same, feel the same, be delivered in the same time and the same format. All the information you want present will be there; anything you want redacted will be gone. You shouldn't have to worry about that.
That leads to the deal you recently closed: your acquisition of Affiliated Computer Services. Wall Street initially didn't like it. What did you find so compelling?
It was all about extending our capabilities, expanding our reach. Xerox is a technology company that's global and has an amazing brand. ACS is a business-process outsourcing company that knows business processes and how to manage them to be significantly more efficient. Business processes are all around documents, containers of information.
So a document doesn't have to be a piece of paper.
Very often it's not. At the end phase, many documents end up on paper. But in the beginning they are digital files, photographic images, phone calls, voice data. All of that is key to having a business process work.
Xerox is really good at managing documents, and we're definitely good at managing through a process. So what's close to our core that we're really great at, that we can extend by utilizing the things we have that are differentiators -- technology, brand, global reach?
Business process was what we settled on. In ACS we saw a great company that was already diversified. It needed a brand. It needed technology to make this work more efficient, more automated. And it needed global reach. And we have all three.
Your stock dropped on the announcement of this deal. Why were investors worried, and what did you say to make them understand?
We announced that we were spending quite a bit of money, a lot of it in the form of stock, so investors were not too thrilled about the dilution, obviously. But they were also just confused. Who is ACS? What is business-process outsourcing? And why are you engaged in it?
The stock took a big drop, and we had to start speaking to our shareholders and go back to basics: explain what Xerox was about, the capabilities of our company, and why this acquisition was a natural extension of the company.
We also had to explain that it was a financially good deal. Will it be accretive in all aspects for the shareholders? Is it a reasonable price? We got over that fairly quickly. People understood the dilution. We also had to explain the longer-term story about how this will grow cash generation, and remind them that we are pretty good operators.
When the infotech revolution was getting started in the 1960s, reputable experts said paper would soon disappear. Of course, exactly the opposite happened -- we use more every year. How come?
I don't think paper will go away. I do believe that the value of paper will change, and Xerox is working on changing that value. Consider a color page. Actual life is in color, but you keep reproducing it in black and white. You remove value. It's a bad thing to do. You retain more information, you act quicker, you can learn faster if things are in color. The reason they're not in color is that it's too expensive. So we're working to make color less expensive.
I bring that up because as color becomes more available, black-and white becomes less necessary. We are making things obsolete as we invent and create. We cannot be afraid of driving ourselves out of certain businesses.
We're the creator of digital publishing with the Docutech machine years ago. We could say, "We're going to protect that at all costs," but if we did that, we would close a whole bunch of doors that have opportunity behind them, and we'd go out of business because somebody else would open those doors.
The copying machine literally obsoleted a whole bunch of secretaries' work, right? But we opened up a whole new set of opportunities. Every move we make is focused on doing that same thing.
Xerox has a famously strong culture, but you've said it could use a little adjusting. What did you mean?
Let me note the strong points. We are nice. And I mean that in a very good way. If you get sick, we'll take care of you. We're not one of these mechanical cultures. We are real people working with real people. It's phenomenal.
We are a team-based company. Diversity is important. Everybody thinks racial and gender diversity is important for sure, but differences in how you work, what your points of view are, are things that we love.
Some of those things can become a hindrance, especially when you need to move quickly, which is just about every day. This niceness sometimes leads to lack of motion, lack of decision.
We have great operators in our company all around the globe, and we haven't quite given them comfort in operating independently. They can do it. So I want them to actually start doing it. Walk in here and use your brain, take chances. Not being reckless. But they know what to do. They don't have to call me to do it.
You're passionate about math, science, and engineering. What's the state of education in those things in the U.S. today?
Very, very, very poor.
How big a problem is that?
It's one of the most important structural problems we have in this nation.
The world is full of opportunities -- every day there's something new that you can do. For example, you could make dirty water potable. Why does anyone not have potable water? Because it's a problem that hasn't been solved yet, but it can be.
Working on telephone lines -- you don't need a Ph.D. to do it, but you need to be able to read, discern, analyze problems. We are structurally creating an underclass that will be hard to fix. If we don't have people who can create value, they will be servers forever. This is not an insurmountable problem. If you get kids when they're young from just about any background, you can create people who are capable of utilizing science, technology, math, and engineering to solve problems.
If you look at the list of the top nations and try to find out where we are in reading, math, and any science, it is stunning. I don't look at the list anymore because it's an embarrassment. We are the best nation in the world. We created the Internet and little iPods and copying and printing machines and MRI devices and artificial hearts. That's all science and engineering. Who's going to create those things?
You've been president or CEO through this entire historic recession. What did you learn?
What I learned is that it could be, and it was for us, a good time to change. When things are okay, there's not that much of an impetus to turn things around. I learned that sitting still is probably not the best thing to do when things are changing a lot.
The best thing to do is move. We lost almost $2 billion of revenue. We changed the inside operations to ensure that we were liquid and profitable. We hunkered down, but we wanted to make sure we kept investing to differentiate ourselves.
That's an exercise that many companies go through in tough times -- deciding "What's our essence -- what won't we cut even if we have to cut everything else?"
This is not the first time that we've done this. The last time was in 2000, a little bit more self-inflicted. This time it was not self-inflicted. But every time we get into a really big shake, we have to step back and say, "Really, what are you about?"
What are some of the technologies you're developing now that you believe will be most important?
One is fairly simple but very important. Hundreds of billions of pages are printed in the world, not all of them on digital devices. I'm trying to get them all to digital devices. Eighty-plus percent of those are printed in black and white. So one of the big investments we have is in trying to make color more affordable.
We launched a product last year called ColorQube that lowers the price of color printing for an average business document by 62%. It's solid-ink technology, sustainable, 90% less solid waste, Significantly less energy utilization.
Solid ink?
It's basically a crayon, but don't try to put a crayon in this machine, please. It's obviously a higher formulation. It's a crayon that you melt, and you can print with less of everything.
The second big investment we have is in smart document technologies. Most containers of information -- paper, whatever -- have tons of information, and it's generally manipulated by human beings.
For example, during discovery in litigation, lawyers and their clerks look at stacks and stacks of paper, and they might say, "Okay, everything that has Geoffrey in it, I want it in pile A." Then if it has your Social Security number, your last name, any private information, I want it redacted -- you get a marker and you black it out. Smart document technologies allow us to scan, store, categorize, and retrieve documents intelligently.
You've spent your whole career in one organization. I think you were on the speed-dial lists of all the headhunters, but you didn't leave. What's your advice to a young person starting out today who wants to be a CEO?
First, don't start out wanting to be a CEO. You're going to be really disappointed if you do that because you may end up doing things you don't love.
Find something that you love to do, and find a place that you really like to do it in. I found something I loved to do. I'm a mechanical engineer by training, and I loved it. I still do. My son is a nuclear engineer at MIT, a junior, and I get the same vibe from him. Your work has to be compelling. You spend a lot of time doing it.
And the reason I never left -- even though I had, as you say, opportunities to leave -- is that this company was my family. I don't mean that in a mooshy way. I had friends here. I saw the world with this place. I learned to lead in this company. I got to work on these great problems.
And whenever I felt like leaving, it was generally because something bad was happening to this company. A good friend of mine who's a board member said to me, "You can't stay when times are good only. You've got to stay when times are bad. If you have a relationship that's a good one, you have to help in the tough times."
And every single time I could have left, the day or the month after I didn't leave, I was so happy I didn't.