Your biz pitch: What the experts want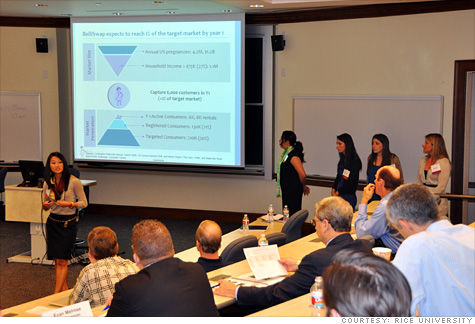 (Fortune) -- For most entrepreneurs-in-training, the best part of a business plan competition is the feedback from judges who pitch and scrutinize business ideas in the real world. But the judges also benefit: Events like these are ideal grounds for casing new ideas and networking with peers.
At the recent Rice University Business Plan Competition in Houston, two judges, both seasoned venture investors, riffed with Fortune on the state of today's venture capital market, and what they look for in a business pitch.
Ed Olkkola is managing director of Teakwood Capital, a private equity buyout fund. Olkkola built his career at Motorola and Compaq before creating the hardware and systems practice at Austin Ventures. He has served as a judge at the Rice contest for seven years.
David Wells is a partner in the Greentech Practice at Kleiner Perkins Caufield & Byers. His background includes technical engineering and overseas management experience. This is Wells's first stint at Rice, but he has judged other competitions.
Below is an edited excerpt from the conversation.
What's your sense of the venture capital world right now?
Ed Olkkola: Venture capitalists today are not as risk tolerant. There's too much money chasing too few good deals. Investors are looking for a team that's been there before, and on every objective measure, they must be 10 times better than the incumbents. You need a crazy advantage to change behavior.
VCs are also thinking with much more comprehensive business metrics due to the pressure and timeline of the product development cycle, and the difficulty of getting something new embedded in the market. The idea has to have a clear way to reach the market, and to slide into existing systems and process so that customers can begin using the process with minimal disruption.
David Wells: We're looking for ideas that are really out near the boundary of the possible, not those that increment from the status quo. We also like tipping point ideas that enable entirely new things that weren't possible before.
We're time constrained, not cash constrained. There's a very large landscape of ideas across the Greentech sector, and we need to choose the ones with the biggest potential to make a difference on a planetary scale.
With consumer and web investing it's all about the team; it's easier to change and adjust the plan. With Greentech it's more important to have a strongly differentiated and highly advantaged technology; we can always help with team building.
Almost all the companies at the competition have proposed exits via acquisition or licensing. No IPOs. Does that say more about the state of the IPO market or the kinds of companies we're seeing here?
EO: I think what I've seen, compared to past years -- we're just coming off the bubble and everyone's still reasonably believing that it's going to come back -- is a much more pragmatic approach to how you get your product from where it is today, in the market, and beginning the process of generating revenue and building real value. So I think the coaching [of the teams] has tempered the belief that "we're going to do a billion dollar IPO on this idea."
But I think -- and you kind of heard through my questioning -- is how do you get traction and grip in the market as fast as you can, so you understand what that technology can grow to? And then from there, once you've got some revenues and validation and customers, you can use that to build into something that may end up being an IPO. But that clearly isn't the theme of what I've seen here this year and probably appropriately so.
DW: I think there's another aspect. As one of the great investors at Generation Investment Management, our sister firm in London taught me, "The market is not a counting machine it's a weighing machine."
So these guys [the teams competing] are being coached to be factual and pragmatic and, reflecting your comments about how you get to market and how you get traction, they're thinking about this as a counting machine. And merger and acquisition is more of a counting machine than a weighing machine, whereas the IPO market is strictly a weighing machine. These guys haven't been coached to think that way; they don't have the experience to think that way.
And right now the public perception is that the weighing machine is broken. So I think that's what's tilted that.
Following on what you said Ed, the advice from some of the judges is that teams need to take on one vertical before going after the whole market. Prove the prototype out in one area and then use that as a foundation. Do you agree?
EO: Moving from something that works in one square foot area on your desk to something that's acres big is a monumental task to prove that the small variations that you see in the benchtop device don't end up becoming incredibly wide variations in performance in a larger area. If you move from here to here on the bench, it's a one-degree move. You extend that out a hundred miles, you're moving by miles every time you move that one-degree. That's the scaling difference.
A lot of the difficulty I was trying to get out of them when I was asking questions of, "What are the things that keep you up at night? The risk in scaling it? Tell me what you think about as the real variations in the technology and the approach as you move from very small to very big."
Many of the teams predicted the ROI for their businesses. Is that a good idea?
DW: I don't think it's useful. It's more of a wow factor to them. I always tell the teams I work with, "As long as we're building a fantasy, let's make it a simple one rather than a complex one. And ROI is deeply complex fantasy."
EO: I'm more interested in the range over which my investment will buy a piece of the company. What type of security and provisions are involved. I also think every team underestimated their capital needs.
Why do you think they did that?
DW: What's most important for entrepreneurs is ownership. What's most important for VCs is success. But the outcome for an entrepreneur is always ownership times value, and there are orders of magnitude difference possible in value, but only around 1.2 times or 1.3 times to negotiate in ownership; the right focus is making value a really big number.
EO: It's better to own a big slice of the watermelon than the whole grape.
What one piece of advice would you give to the teams here?
EO: What you haven't seen really in any of the presentations is a balanced view of how they assess the risk in their plan and how they plan to mitigate it differently from how other companies have done it going forward and where other companies have made mistakes. You've got to really think differently. Tell me what you think the real risks are so we can really quantify and understand how we can begin mitigating them if we're a team and I'm an investor in your deal. Think in those terms, think of how you're going to do it differently, how you're going to learn from mistakes of the past. Don't repeat history.
DW: One way of embodying that is not a single one of them did one slide where they put the chunks of their plan of work, the milestones those chunks take them to -- quantitative milestones, on the same timeline headcount, on the same timeline capital requirement, on the same timeline market engagement. None of them did that one slide that gives you a snapshot of how they're going to do it. That's how I would quantify Ed's comment.
The comment I would make is that these are all really early stage ventures and to the extent that a lot of them are founded on some innovation of technology, they all need to do a much better job presenting exactly what their core innovation is, why it is unique, defensible and sustainably advantaged. They all did not nearly enough of presenting the core innovation.
EO: And trying to frame it not just as a one-shot wonder, but as, "What is the roadmap here? Where does this go?" The camera company, Rebellion [Photonics]. They could have done a little bit better job of understanding, "What happens when pixel densities continue to increase? Can you use multiple-looking sensors in an array that does something unique and different? How do these package differently?" Ways to show evolution of the roadmap that give you a sense of you're buying into something that really has a life to it. And not just a, "We're going to fund this product and get it done, and we're done."