Netflix soars past $100 -- time to sell?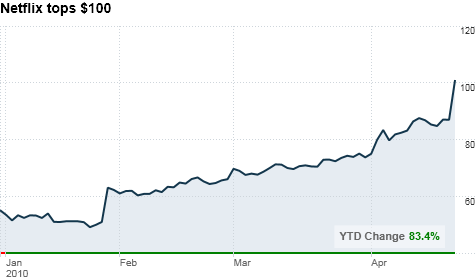 NEW YORK (CNNMoney.com) -- Netflix's stock skyrocketed past $100 a share Thursday, a day after the company reported another phenomenal quarter, but many analysts are skeptical of the lofty share price.
The online movie rental company logged a 44% surge in first-quarter profit on a 25% bump in revenue. Both numbers easily blew past Wall Street estimates.
But what really floored analysts was the number of subscribers that Netflix added and lost: The company gained a net 1.7 million subscribers in the first three months of the year, giving Netflix 14 million total subscribers. That's up 35% from a year ago. On top of that, Netflix only lost 3.8% of its customers, a record-low that the company credits to growth in its streaming movie service.
Netflix movies can now be streamed on any of the three major video game consoles: the Sony (SNE) PlayStation 3, the Microsoft (MSFT, Fortune 500) Xbox 360 and, as of the beginning of April, the Nintendo Wii. That's clearly a service that people want: A record 55% of Netflix customers watched streaming movies last quarter.
On the back of such great news, Netflix raised its profit and sales outlook. Netflix also upped its subscriber forecast by 1 million users, saying it now expects to add between 4 million and 5 million subscribers in 2010.
The company's stock price has doubled in less than three months with shares of Netflix (NFLX) soaring 15% to $100.21 Thursday. On Jan. 26, shares of Netflix closed at $49.95.
Hold the champagne
Many analysts think the stock price is due for a fall back to earth. Of the 32 analysts covering Netflix, only 10 currently have a "buy" or "outperform" rating. Fifteen have a "hold" rating and seven say investors should sell the stock. That compares with 14 "buy" ratings and five "sell" ratings in February.
Before Wednesday's earnings announcement, the median share price forecast over the next 12 months was $70, with a high of $102 and a low of $31. The most bullish analysts raised their forecasts to $110 following the company's earnings release.
To understand why many analysts see a pullback on the horizon, look no further than the company's price-to-earnings (P/E) ratio. The P/E ratio measures how a company's stock stacks up against its expected earnings. Netflix's P/E sits at 40. Compare that with an average ratio of 24 on the Nasdaq composite index and 17 for the S&P 500.
"I have real trouble with these [price-to-earnings] multiples," said Michael Pachter, analyst at Wedbush Securities. "It just doesn't make any sense. I've teen trying to tell the big holders that they should think about taking profits right now."
Pachter, who believes the stock will fall to $73 a share over the next 12 months, said he sees two main reasons for shares to retreat: A likely decline in subscriber growth and higher fees from studios.
Video game consoles have been the main source of subscriber additions for Netflix. With the addition of the Nintendo Wii -- and its 30 million customers -- Netflix is rightfully bullish about subscriber growth, said Pachter. But eventually the number of video game console owners who have the service will become saturated.
"They'll grow like this for four to five more quarters, then they'll go back to adding just 1 million to 2 million subscribers per year," he said. "When that happens, the stock is going to go down a lot."
Subscriber growth has been good for Netflix's bottom line but it also gains the attention of studios, who will look to cash in on that growth charging more for the licensing rights to their movies, Pachter said. That would be a significant drag on Netflix's sales and margins going forward.
Growth will continue
Still, there are plenty of analysts who think Netflix has plenty of room to grow.
The most bullish of those analysts is David Miller of Caris & Co, who thinks the stock can trade as high as $110 per share at this point next year.
Miller said the rapidly growing number of streams will help Netflix keep margins down. While sending DVDs to users' homes costs 85 cents per shipment, each stream costs Netflix just 5 cents.
"The shift in consumer behavior is going to help Netflix's margin-growth rate continue to go up," Miller said. "That will result in enormous cost savings for Netflix."
One analyst, Mark Mahaney of Citigroup, even upgraded the stock. Mahaney agreed with Miller's margins assessment, and said that the company's streaming service on Apple's new iPad will serve as another source of subscriber growth going forward.
Miller agreed that Netflix's P/E ratio was exceedingly high, but he said that's because Wall Street's earnings-per-share estimates are too low. Miller's earnings forecast of $2.77 per share for 2010 puts Netflix at a 36 P/E ratio -- still quite high, but at least a little healthier than 40.
Blockbuster's (BBI, Fortune 500) demise also continues to help Netflix, according to analysts. Despite Blockbuster's deal to get Warner Bros. movies a month ahead of its competitors, analysts don't think that will have any significant effect on Netflix subscribers, due to its superior streaming service.
That streaming advantage should also keep other competitors at bay: Though competitors Coinstar's (CSTR) Redbox and Wal-Mart (WMT, Fortune 500) are looking to add streaming services, even the most bearish analysts say that those threats are very far off. Similarly, HBO, Hulu and Apple's (AAPL, Fortune 500) iTunes all could eventually pose threats to Netflix's success, but so far the services have all been able to coexist peacefully.