Searching for China's Henry Ford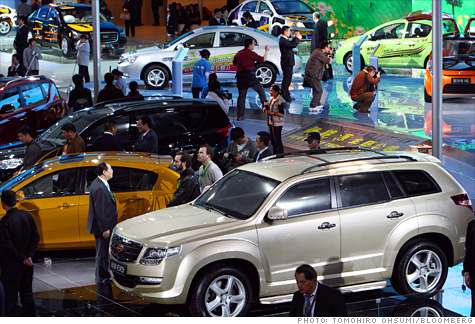 (Fortune) -- The Beijing Auto Show opens this weekend, and as you'd expect, carmakers from far and near have flocked in. China is their oasis: a market growing relentlessly at a time when the world's richest economies are just now staggering back to their feet.
China, in case you need to be reminded, is not the market of the future anymore. It's the market of the present -- and probably will be forever.
In 2009 it became the largest auto market in the world and, according to a JD Power and Associates forecast, will grow by a further 55 percent in the next five years.
So they've come from Detroit, and Tokyo, and Stuttgart, and Seoul. But for the big global guys, there's a small -- or maybe not so small -- problem: carmakers have also come from all over China. From Shanghai and Beijing, but also from Zhejiang, and Dandong, and several other places most Americans have never heard of. China's domestic automakers are after the same market as Ford (F, Fortune 500), GM (GM, Fortune 500), Toyota and Nissan-Renault.
How many carmakers in China?
In fact there are so many Chinese auto companies -- and so many new entrants -- that no one seems to even definitively know how many at any given moment there actually are.
It's a straightforward enough question, or so it seems. In the fastest growing automobile market on the planet, how many China based passenger car manufacturers are there?
According to the definitive sounding China Association of Automobile Manufacturers the number is 118, a figure that conjures up images of early 20th century America, when there were no less than 75 car companies before the scythe that was Henry Ford's mass-produced Model T began winnowing the field.
But that's not right, says no less an authority than the also rather definitive Chinese government.
According to the Ministry of Industry and Information Technology, there are no less than 258 -- 258! -- Chinese automobile producers. Which is odd, because JD Power and Associates says the number of China based companies making nothing but cars are a mere 53.
JD Power executive John Humphrey acknowledges the confusion with a laugh: "things change so fast in this country that information can be, um, elusive."
But for the global manufacturers, this is no joke. The presence of so many domestic carmakers in China makes for brutal competition in the low and middle class segments of the huge domestic market.
The top ten companies in China account for just 73 percent of total sales. In the U.S., the comparable figure is 94 percent. Profit margins are thin in the auto business in China -- and even as sales rise, margins are not rising as quickly as they would in other, less crowded markets.
Everyone understands that over time -- how much time is unclear and critically, is up to the Chinese government -- the herd will be culled, just as the U.S. auto business came to be dominated by the Big Three in the 20th century.
But right now, says Chen Daxia, a senior engineer at CAAM, the trend is moving in the opposite direction: the number of Chinese auto makers seems to be growing. Take only one, high profile example: BYD -- famously backed by Warren Buffett -- used to be a just battery company. Today, it's a car company.
Everything from Bavarian Motor Works to Jonway Automobiles
But there are loads of others you've never heard of. You can walk around the Beijing auto show and within five minutes see just how bizarre this market is: today I saw a new BMW convertible so luscious that you almost wanted to ask the nearly six foot tall, preposterously beautiful model sprawled all over it to move aside so you can get a better look at the car.
Then I looked at the price tag: 1.95 million yuan. That comes to about $285,000, in a country where the average per capita income is about $2000 a year.
Stroll over to the Jonway Automobile exhibit in the adjacent hall, and things get more interesting. What, never heard of Jonway Autos? Well, neither had I, and I've been living here for six years. It's based in Zhejiang province -- next to Shanghai.
Jonway was promoting a new SUV for the equivalent of about $14,000. I'll bet that sells better than the BMW convertible that costs more than my house.
Green acolytes in the United States and Europe will be very disappointed to learn how many SUVS are being produced by Chinese auto companies they've never heard of. The real environmental future may not be about the Prius but the offerings at the Beijing Auto Show.
State-owned car companies that aren't GM
The chaos in this market will eventually end. But here it's not likely to happen for Henry Ford-like, game-changing reasons. The consolidation that will come to the Chinese auto market will be government driven, says Humphrey.
Virtually every province is currently funding one or more of these companies. Even if they don't, they understand that companies like Jonway, in Zhejiang, provide jobs and tax revenue.
Understand this: no significant auto capacity gets added or subtracted in China without government approval. Though the central government has said consolidation is needed, it can't just make it so. Everything will be negotiated. The provinces wield power in China.
"If a company says it want to add capacity somewhere," says Humphrey, "it's likely that the government will say, don't build anything, just buy out this [smaller] competitor. It's not going to be private sector driven. Consolidation will happen over time," he says, "but it's going to be slow and deliberate. I think it's three to five years at least before you see [consolidation] in China.''
That means profits will probably remain tough to come by for the big guys, even in a soaring market. As for me, I'm off to test-drive that Jonway SUV.