Road warrior: Adventure junkie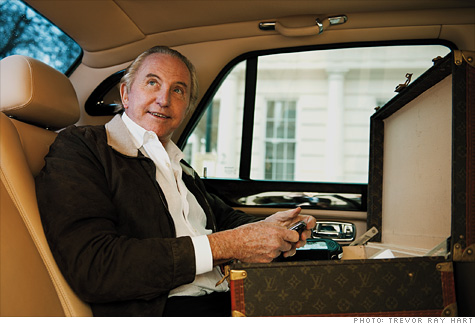 (Fortune Magazine) -- Taking clients all over the globe for his luxury travel company, Geoffrey Kent, CEO and founder of Abercrombie & Kent, is a pro when it comes to his own road rituals.
Here are some of his travel survival tips:
1. I am never without my Louis Vuitton briefcase. It's a President Classeur from 1972. I use it as a substitute for weights and do exercises in my tent.
2. In order to do a digital diary of everything from the bathrooms to the flowers while researching a new location, I take my Sony Cyber DSC camera.
3. My favorite airline is British Airways. They have flat beds in business class. That makes all the difference between sleeping and not. It also connects to many of the faraway places I go.
4. On overnight flights I'm not one of those people who change. In the morning the loos are always full of people changing, so you have to wait in line. But I keep the sleeper suits they hand out. They're fabulous for English winters.
5. I'm a crazy coffee drinker. Every lodge, camp, or ship under the A&K umbrella must have an espresso or cappuccino machine. I only like Starbucks myself. I'll order a cappuccino, two shots, fat free and extra dry.