USAA wants your support in exempting itself from the Volcker Rule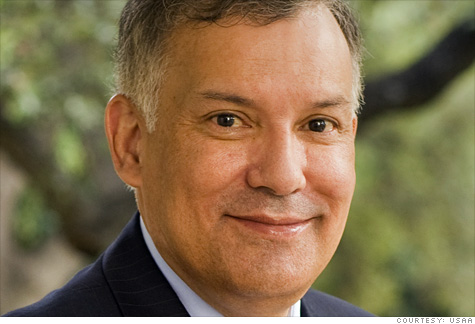 (Fortune) -- USAA is urging all of its members to take action against part of President Obama's financial reform package called the Volcker Rule, designed to keep banks from investing their money in a way that would compete with clients. That practice, called proprietary trading, is often blamed as a partial cause of the financial crisis.
The instiution is lauching an aggressive campaign via their website, Facebook, and Twitter, but it seems to be glossing over the details of its stance -- namely, the fact that USAA actually has no problem with the Volcker rule as it applies to nearly every other financial institution that would fall under its purview.
That's because USAA is structured under a model much more common in Europe: it combines insurance services with consumer banking. The company, which is the 34th largest bank in the U.S., with $33 billion in deposits, provides a whole host of financial services to military personnel and their families.
It started as a small car insurance company for soldiers in 1922. Gradually, it expanded -- with the idea of streamlining financial services for military personnel -- and added consumer banking to its lineup in 1983. Only State Farm among large American institutions offers a similar suite of services.
Richard Ludke, a State Farm spokesman, said, "the Volcker Rule legislative language would inadvertently have a negative impact on an insurance company's investment model that is heavily regulated by state insurance regulations and is a model that has been in place for decades." He confirmed to Fortune that State Farm would be affected by the rule should it become law.
The Volcker rule could limit investments on the insurance side, because USAA is also a commercial bank. The company is arguing on its website that its insurance "operations [are] already being heavily regulated by state insurance regulators."
By having its insurance investments limited to only government issued securities, USAA says it would have to raise rates on members to make up the difference from the regulations as they stand today, under which it can invest in a broader range of securities.
"That is a unique structure, and its one that serves our members well," says Roger Wildermuth, a USAA spokesman. USAA is spearheading the campaign to amend the proposed legislation, which is going before the Senate next week. USAA has sent about 5 million emails in the effort to rally support from its 7.4 million members.
The one message USAA wants to leave with their members is to "contact your U.S. Senator now." Presumably, the contact should be to express support for a USAA proposal to write a loophole into the Volcker rule that exempts insurance companies from rules that will apply to investment banks with consumer banking operations, like JPMorgan (JPM, Fortune 500).
USAA's website offers a page with a higher level of detail, but it is not the main instrument being used in the campaign. Rather, it's the email, which can be seen here, that most members have read.
The email message doesn't, however, address any of the issues in the raging debate over the financial regulatory reform proposals currently winding their way through the Administration and Congress. It's not clear that USAA is seeking to educate its members about the issue as much as it's concerned about putting on a campaign that spurs them to action for its particular cause.
"We're working on a short timeline with a complicated issue," says Wildermuth, when asked about the content of the email. Comments on the website suggest that members feel loyal towards the bank, but that it might be hard to separate this weird byproduct of the Volcker Rule from financial reform in general.
"We're just trying to ensure that the Volcker Rule, while still applying to a depository institution would not apply to the business of insurance," says Wildermuth. "The specific wording is above my pay grade."
He says that all hands are on deck to try to change the legislation on the front end. If the effort fails, USAA is going to have to fundamentally change its structure, a proposal blogger Felix Salmon raised in a post today.
Wildermuth says the firm would rather avoid making the change, which he says would be expensive, and increase the price of the services USAA provides to its customers.