Palm running out of options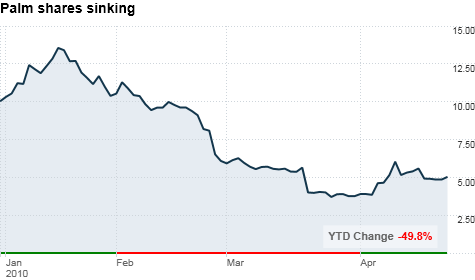 NEW YORK (CNNMoney.com) -- Palm's future has been up in the air as the list of potential buyers has thinned out, but rumors circulated Friday that there might be a white knight planning a bid.
Hong Kong-based PC maker Lenovo appears to be the last man standing to take over the struggling company. Reuters reported Friday that the company is considering making an offer.
That gave Palm's (PALM) stock a nice 5% boost. Shares rose as much as 7% before retreating a bit.
Taiwan's HTC had been a rumored favorite to take over the company, because Palm holds patents that could potentially help HTC in a legal dispute with Apple. But Friday, Reuters reported that HTC is no longer interested.
HTC and Palm declined to comment on this story. Lenovo could not be reached for comment.
Palm debuted its Pre smartphone in January 2009 amid great expectations that it might pose the first real challenge to Apple's iPhone. But a bizarre marketing campaign, an exclusive contract with lower-profile wireless carrier Sprint, few apps, and the surprising success of Google's (GOOG, Fortune 500) Android mobile platform overshadowed analysts' praise for the Pre's WebOS operating system.
Sales disappointed, even after the Pre and its smaller sister, the Pixi, came to No. 1 mobile carrier Verizon (VZ, Fortune 500) Wireless. In February, Palm Chief Executive Jon Rubinstein said that 2010 sales would be "well below" its forecasts, and investors responded by cutting the stock's value by half in less than a month.
Analysts say Palm's options are limited: Find a suitor, try to sell WebOS to other handset makers, or let the game play out and hope for the best. Most agree that a sale to Lenovo would be the easiest way to salvage much of the good, albeit unpopular, technology that Palm created.
The buyout possibility
There are some reasons why a Lenovo bid makes sense. Lenovo is sitting on a pile of cash, it wants to expand its wireless business beyond China, and it has a history of scooping up cast-off technologies to grow into spaces it would have otherwise had difficulty moving into. For instance, Lenovo bought IBM's (IBM, Fortune 500) PC business for $1.25 billion in 2004 to gain greater access to the U.S. personal computer market.
"I'm not sure how easy it would be, but it's definitely a possibility," said Carolina Milanesi, wireless analyst at Gartner. "Buying Palm would be an easier way to get into the U.S. market than going it alone or by offering yet another Android option."
Milanesi said Palm still has a strong brand recognition, which is still worth something. And offering WebOS would help the company stand out among the swarm of Android phones coming to market.
But other analysts are skeptical.
"If you look at who's out there, the answers are all 'no,'" said Ramon Lamas, mobile device analyst at IDC.
Most of the so-called tier 1 handset makers either wouldn't be a good fit or have already said they're not interested, Lamas said. Nokia (NOK) is a no-go, because it just redesigned its own Symbian platform and made an investment with Intel. Motorola (MOT, Fortune 500) is still invested in Android. Research in Motion (RIMM) is coming out with a new BlackBerry OS that is going to solve a lot of criticisms they've had. And despite some Apple (AAPL, Fortune 500) talent leaving for Palm a few years ago, Apple has been doing just fine on its own without them.
That leaves the PC makers, like Hewlett-Packard (HPQ, Fortune 500), Dell (DELL, Fortune 500), Acer and Lenovo, which have few synergies with Palm.
"Lenovo is really new to the game, so I can't see how buying another fledgling smart phone maker like Palm would help either of them," said Soumen Ganguly, principal at Altman Vilandrie & Co. "Palm has really been struggling, so I'm not sure that it makes sense."
The going-it-alone option
If Palm doesn't find a buyer, another possibility could be licensing its WebOS operating system to other handset makers.
"Selling off WebOS is more realistic than continuing to sell it in-house," said Ganguly. "If handset makers like HTC, LG or Motorola are looking for an alternative to Android, this could be it."
Ganguly said Pre's biggest problem is its hardware, not the software. Though WebOS is a compelling smart phone platform, the Pre and Pixi devices themselves are a bit awkward and growing long in the tooth. Palm's best chance of survival is if it can get WebOS on five to 15 phones, much like Google (GOOG, Fortune 500) has done with its successful Android platform, according to Ganguly.
But unlike Android, Palm's WebOS is not open source (read: free), and it would probably be hard to sell.
"That would make Palm a Microsoft rather than an Apple or a Google in this game," said Milanesi. "Microsoft has had some success selling their OS, but it would be hard for Palm to match Microsoft's level of support for its licensees."
Palm's CEO has said that the company can survive without a buyer. But if Palm's only option is to continue doing what it has been doing, its options are extremely limited. Time may also be running out, as its competitors continue to grow and come out with new devices and features.
The Pre is expected to become available on AT&T's (T, Fortune 500) network any day now, and rumors are circulating that a new Palm device will be soon ready to come out on the Sprint (S, Fortune 500) network.
It's unlikely that Palm could come out with a large number of smart phones by itself, but if its new phone turns out to be a blockbuster device, that could turn Palm around pretty quickly, according to Ganguly.
Others say a little more time is needed before Palm hits the panic button.
"Palm will continue on its path," said Lamas. "It has sustained some other missteps in the past, and one year after a launch is way too soon to give up."