Why you don't care about Goldman Sachs
NEW YORK (CNNMoney.com) -- Goldman Sachs is getting lambasted in front of Congress today over its role in the financial crisis, specifically the SEC's allegations of fraud involving a subprime mortgage investment that tanked.
Many politicians and journalists are all agog about Goldman's alleged transgressions. You're hearing a lot about how Goldman bet against America and profited as the housing market crashed and burned.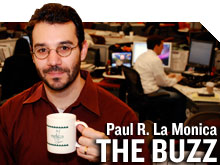 Yet, I get the strange suspicion that many average investors and consumers -- to paraphrase Rhett Butler -- frankly don't give a damn about the toxic Abacus 07 AC-1 CDO, Goldman trader "fabulous" Fabrice Tourre and hedge fund manager John Paulson.
It's a stretch to say this is all much ado about nothing. But where's the populist outrage?
Clearly, taxpayers are not happy with Wall Street doing business as usual. There was a massive outcry against the bank bailout in 2008, the continued use of lavish corporate perks by TARP recipients like Citigroup (C, Fortune 500) and big bonuses paid to execs at "rescued" firms like AIG (AIG, Fortune 500).
Still, the latest Goldman "scandal" just doesn't seem to be causing as much anger among taxpayers. Why is that the case? I have several theories.
For one, people may simply be suffering from a case of Wall Street rage fatigue.
In New York at least, there's a growing sense that enough is enough. We all know that many on Wall Street are scoundrels. But they are our scoundrels and we're tired of Wall Street being blamed almost exclusively for the credit crisis and recession.
It's fascinating to watch how the New York tabloids in recent months have shifted from covering the big Wall Street firms as if they were serial killers to defending Wall Street since it is obviously a big driver of economic growth in New York.
This is of course a very provincial argument. And I'm not naive. There are probably many Americans who are happy to see Wall Street and New York take their lumps.
Many consumers are of course still ticked off at all the big bank fat cats for helping to bring about the market collapse -- and that many of those corpulent felines still received huge bonuses even as their firms lost money.
But anger about the big bank bailout is an old story. I think many people have moved on. I sense less anger about Wall Street and more about other hotter button issues such as health care, immigration, the still-weak job market and taxes.
Along those lines, I don't think you can understate the mistrust of and disgust for the federal government these days.
Sure, big bank CEOs aren't exactly champions of the people and it's nearly impossible to feel sympathetic for them even as they get raked over the coals. But I do believe people hate Washington more than they hate Wall Street.
Many people view the latest charges against Goldman as being politically motivated, i.e. a ploy by the White House and Democrats in Congress to get some semblance of financial regulatory reform passed.
At the same time though, you can make the compelling counter argument that Republicans are merely criticizing the timing of the SEC's charges for their own partisan reasons. They are using the Goldman charges as an excuse to stall and do nothing to change the financial system.
In other words, there is a belief that Washington is broken because of a failure on both sides of the aisle to actually work together and do anything other than continuously stump for votes. The purpose of being in government doesn't seem to be governing anymore but getting re-elected. The campaigning never ends.
It's not just a cynical view of Washington that's leading to a lack of bilious rage. There also seems to be a growing realization that what Goldman did may have been sketchy, but not illegal.
While it's ultimately up for the courts to decide -- and I continue to applaud the SEC for finally taking a closer look at what was going on at Goldman during the crisis -- there does not seem to be many clear "smoking guns" against Goldman.
Make no mistake. Nobody at Goldman is likely to win any ethics awards anytime soon. But it's not fraudulent to bet against a market, even one as sanctified as housing. We shouldn't be demonizing the practice of short selling.
It's also a convoluted argument to suggest that Goldman bet against America or caused the housing bubble to burst. Homeowners who arguably shouldn't have gotten loans in the first place shouldn't blame Goldman for creating investments backed by those bad mortgages.
Finally -- and this may be the biggest reason why average Americans aren't in an uproar -- is that those that were really hurt by the collapse of Abacus were big investors who arguably should have known better and done their own due diligence.
The investors burned by Abacus were asset management firm ACA and IKB, a large German bank. The Goldman disclosure debacle didn't cause massive financial pain for pension funds, widow and orphan investors or lower-level employees who suddenly found their retirement funds wiped out.
As Tourre pointed out in his testimony Tuesday, he had no retail, average investor clients.
What happened with the implosion of Abacus is the equivalent of a feared schoolyard bully getting beat up by a bigger bully who's moved into town. That's why nobody's that angry. You don't exactly feel bad for the old bully getting his comeuppance. You might even cheer.
But what do you think? Am I missing something and is there a brewing backlash against Goldman over the SEC's allegations? Or do you agree with me that the latest fury over Goldman is overdone?
E-mail me or leave Facebook comments below and if I get enough colorful feedback, I may do an update to this column (either as a story or video.)
- The opinions expressed in this commentary are solely those of Paul R. La Monica.