Ford surges to profit
NEW YORK (CNNMoney.com) -- Ford Motor Co. continued to lead major automakers in recovering from the difficulties of a year ago by reporting a better-than-expected first quarter profit Tuesday.
Ford (F, Fortune 500), the iconic auto and truck maker based in Dearborn, Mich., said that net profit totaled $2.1 billion in the first quarter, with earnings of 50 cents per share, beating analyst forecasts.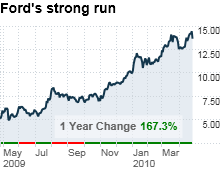 Excluding special items such as profits from the sale of its Volvo unit, the automaker earned 46 cents a share. That was far better than the 31 cents a share analysts surveyed by Thomson Reuters were expecting. It even topped the most bullish profit forecast of 37 cents a share.

The numbers bore little resemblance to a year earlier, when Ford reported a net loss of more than $1.4 billion, or 60 cents a share. Excluding items, the company lost 75 cents a share in that period.

Ford reported that revenue rose 15% to $28.1 billion, lifted by strong sales and market share gains in North America.
The automaker said that strong sales of Fusion, F-150, Taurus and Focus cars and trucks helped it bump up U.S. market share by 2.7% in the first quarter to 16.6%.
The number of vehicles sold worldwide jumped 36% to 1.3 million in the quarter. And the gains in sales across the globe translated into a much improved bottom line in each of its four geographic regions -- North America, South America, Europe and Asia-Pacific and Africa. Each of the four units also reported strong profits, compared to a year ago, when only the South America unit was in the black.
Going forward, Ford executives cautioned they might not be able to match this level of profits in the coming quarters with rising raw material costs and some scheduled launches raising other expenses.

But they remained bullish on profits and sales for the rest of the year. Each geographic region has increased production targets from first quarter output.

"Our plan is working and the basic engine that drives our results -- products, market share, revenue and cost structure -- is performing stronger each quarter, even as the economy and vehicle demand remain relatively soft," said Chief Executive Alan Mulally.
When asked how much the company benefited from the problems of its rivals, federal bailouts and bankruptcy of General Motors and Chrysler Group and recall problems of Toyota Motor (TM), Mulally said the decisions made by Ford several years ago had put it in a position to benefit from its rivals' problems.
"I think it's absolutely a manifestation of the strength of our products," he said.
Analysts agreed that Ford has done more than simply benefit from its rivals' problems.
"It'd be naive to assume Ford did not benefit from others' misery. But if they did not have the right product lineup, the benefit would have been minimal," said Jesse Toprak, vice president of industry trends at TrueCar.com. "Ford's product lineup right now is the best they've ever had by far."
Despite the strong performance, Ford stock was down about 5% in late-morning trading. But its shares are still up 37% year-to-date and up 167% over the last 12 months.
Efraim Levy, auto equity analyst with Standard & Poor's, said Tuesday's sell-off in Ford stock was an example of investors selling on good news. He said there are concerns that Ford can continue the growth it has seen in recent quarters.
"When you have the tailwinds they've had, benefiting from the woes of the competitors, there are worries about what happens when that fades into history," he said.
Levy reiterated his hold recommendation on the stock. His 12-month target price is $14 a share, only modestly above current levels.