Big tech's $188 billion war chest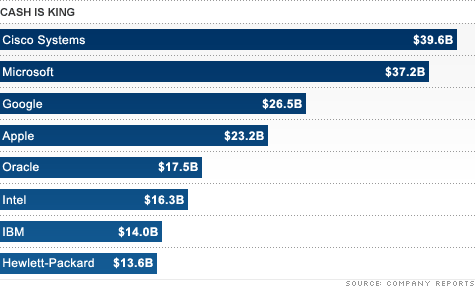 NEW YORK (CNNMoney.com) -- Hewlett-Packard is making a bold gamble with its plans to buy struggling smartphone company Palm. But you know what? HP can afford to roll the dice.
HP is spending $1.2 billion in cash to acquire Palm (PALM). That's peanuts when you consider that the company has nearly $14 billion in cash on its balance sheet. And HP (HPQ, Fortune 500) isn't the only big tech firm to be sitting on a mountain of dough.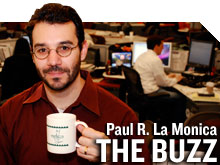 In fact, HP's hoard is the smallest of the eight largest tech companies ranked by market capitalization. Those eight firms combined have nearly $188 billion in cash.
That's why it's likely that the HP-Palm deal may be just the beginning of a wave of mergers throughout the tech sector. They clearly can afford to do their best Monte Hall (or Wayne Brady) impersonation and play the tech version of "Let's Make a Deal."
HP has already shown a willingness to use its cash to bulk up so the Palm purchase, while a surprise to many tech pundits, shouldn't be that shocking. HP completed its all-cash $2.7 billion purchase for 3Com (another former tech darling) earlier this month.
Two more of tech's Big 8, Cisco Systems (CSCO, Fortune 500) and Oracle (ORCL, Fortune 500), have also proven to be highly acquisitive companies. Most recently, Cisco bought Norwegian video networking equipment firm Tandberg for more than $3 billion in cash while Oracle spent more than $7 billion in cash to buy Sun Microsystems last year.
The remaining five companies in Silicon Valley's all-star octet -- IBM (IBM, Fortune 500), Microsoft (MSFT, Fortune 500), Google (GOOG, Fortune 500), Apple (AAPL, Fortune 500) and Intel (INTC, Fortune 500) -- have also made acquisitions of varying sizes in recent years and clearly are in a position to strike again if they see fit.
Not only do the companies have the means to go on shopping sprees, perhaps more importantly, they may now have a greater desire to do so too.
"The large tech companies are loosening their purse strings a little bit. It reflects the notion that the economy is on the upswing," said John Byrne, director for the telecoms/networks practice at Technology Business Research in Hampton, N.H. "They don't need to hoard as much cash and can invest in growth opportunities."
And why not? Using cash to buy a rival is a more shareholder-friendly way to grow for your existing shareholders. That's because any issuance of new stock in a deal has the potential to dilute the value of an investor's current stake.
What's more, these companies are earning very little on their massive cash positions right now since interest rates are historically low -- and probably not moving much higher anytime soon.
"These companies are going to have to make a decision on what they are going to do with their cash. They either are going to buy back stock, increase or initiate dividends or make acquisitions," said Channing Smith, co-manager of the Tulsa, Ok.-based Capital Advisors Growth fund.
But it doesn't have to be an either/or situation for any of tech's big eight. HP, for example, is paying a dividend and also is an aggressive buyer of its own stock. IBM increased its dividend earlier this year even as it has scooped up several smaller private companies in recent months.
Smith, whose fund owns stakes in Apple, Cisco, Google, IBM, Intel and Microsoft, said he expects more acquisitions in the mobile arena following HP's deal for Palm. He specifically cited Microsoft, Intel and Cisco as companies that will probably look to boost their presence in mobile.
"This is one of the more significant cycles in technology we've ever seen. There is just an explosion in smartphones and other mobile devices," he said.
It's not only about hardware and software though. Byrne noted that both Google and Apple have made acquisitions of mobile advertising companies and said that this business may wind up being the equivalent of tech's Holy Grail in the future.
Byrne added that tech companies may also look to use their cash to buy or invest in companies in emerging markets, particularly China.
But no matter where tech's top companies are most interested in buying, it's certain that they are going to continue hunting for deals. There are plenty more tech firms out there like Palm that simply lack the cash and marketing muscle to compete effectively against the big boys.
- The opinions expressed in this commentary are solely those of Paul R. La Monica.