Bank shareholders fight back -- and win
(Fortune) -- Bank shareholders are showing a bit of gumption.
Investors at two big banks voted this week to trim the sails of corporate insiders. Shareholders at PNC Financial Services (PNC, Fortune 500) passed an advisory proposal that aims to limit the size of golden parachutes, while Bank of America (BAC, Fortune 500) shareholders voted to give themselves more say on the board.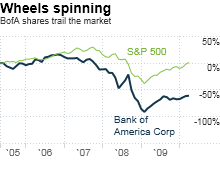 These victories were unusual because they came despite the opposition of the companies' boards. While most shareholder proposals still fail -- all four shareholder resolutions were voted down this week at Wells Fargo's (WFC, Fortune 500) annual meeting, for instance -- reformers say they are gaining steam in the wake of the meltdown of 2008 and early 2009.
"There's a trend toward more of these motions passing," said Eleanor Bloxham, who runs the Value Alliance corporate governance advice firm. "There is a lot more momentum right now."
At Bank of America, shareholders passed a resolution that would give shareholders the right to call a special meeting as long as owners of at least 10% of shares vote in favor of it. That's down from 25% now. The proposal was made by longtime corporate gadfly Ray Chevedden of Los Angeles, who owns "no fewer than" 200 shares.
"A special meeting allows shareowners to vote on important matters, such as electing new directors, that can arise between annual meetings," the proposal read. "If shareowners cannot call a special meeting investor returns may suffer."
Though BofA shares have risen sharply over the past year, they suffered during the rein of CEO Ken Lewis, who stepped down under pressure last year. Chevedden's proposal noted that the Corporate Library corporate governance firm last year gave BofA's board a "D" rating, citing "high concern" in areas including pay and takeover defenses.
BofA had urged shareholders to vote against the proposal, saying its current 25% threshold "represents an appropriate balance between the ability of stockholders to call a special meeting and the interests of our company and its stockholders in promoting the appropriate use of Bank of America's resources."
A spokesman declined to offer details of the voting and stressed that the vote is advisory -- which means it may be considered by the board at any time but may not necessarily be adopted as part of the company's rules.
But Tim Smith, a senior vice president at Walden Asset Management in Boston, said corporate boards tend to take seriously any shareholder proposals that get a big vote, regardless of whether they win a majority of ballots cast.
"Our view is that any significant vote sends a message to the board," said Smith, whose firm owns Bank of America shares and has pushed for shareholder oversight of executive compensation and other governance reforms.
He added that the while BofA shareholders may be trying to "keep an eye" on a board that has been viewed as unaccountable, the 10% rule "stands on its own merits" as a governance measure and as such is being adopted at numerous other companies.
Indeed, the Chevedden proposal notes strong votes for the proposal last year at CVS Caremark (CVS, Fortune 500), Sprint Nextel (S, Fortune 500) and Safeway (SWY, Fortune 500), among others. He has made a similar proposal that will come to a vote next month at JPMorgan Chase's (JPM, Fortune 500) annual meeting.
The bank opposes the 10% proposal, saying it cut its voting threshold to 20% from 33% in January after seeking input in "regular, periodic discussions with shareholders."
At PNC, shareholders passed a resolution calling for the board to rein in so-called golden parachutes that would pay retiring executives triple or more their annual salary and bonus.
Under the proposal, made by a pension fund, the board would seek shareholder approval for any retirement payouts beyond three times an executive's annual salary and bonus.
"We believe that requiring shareholder approval of such agreements may have the beneficial effect of insulating the Board of Directors from manipulation in the event a senior executive's employment must be terminated by the company," the proposal said.
A similar proposal passed this year at Bank of New York Mellon (BK, Fortune 500), and Smith said proposals limiting severance pay tend to do well because they get "big mainstream support."
The mainstream doesn't always include bank directors, though. PNC's board, which paid CEO James Rohr $49 million over the past three years, opposed the proposal. PNC said it has "a long track record of responsible pay practices, including in relation to severance payments."