Baidu jumps $90 on profit from Google's China exit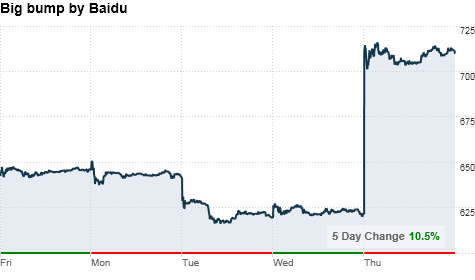 NEW YORK (CNNMoney.com) -- Shares of Chinese search company Baidu leapt by nearly $90 Thursday after the company reported that its profit more than doubled following rival Google's exit from the search business in China.
Baidu's (BIDU) stock climbed 14%, or $88.49, to $709.87 a share. The stock has risen more than 80% since Google first announced in January that it might end its search business in China. Shares of Google (GOOG, Fortune 500), meanwhile, have fallen 12% over the same time period.
Google moved its servers out of the country and stopped censoring its search results in China on March 22. Chinese authorities have responded by blocking access to to certain search results for users within the country's borders.
During the scuffle with China, Google lost a significant share of the Chinese Internet search market, much to Baidu's benefit. Many Chinese Web sites that had been using Google's search engine switched to Baidu's engine during the quarter.
Google's market share in China fell to 31%, down from 35.6% in the previous three months, according to online traffic analyst Analysys. Meanwhile, Baidu's share rose to 64% in the first quarter, up from 58.4% in the fourth quarter.
Still, Baidu's results surprised even the most bullish analysts.
Late Wednesday, the Chinese search giant reported first-quarter net income of $70.4 million, or $2.02 a share, up 165% from a year earlier. Revenue rose 60% to $189.6 million.
According to a Thomson Reuters poll, Wall Street expected earnings of $1.52 per share on revenue of $180 million.
The company, which raised its sales outlook, said it still has plenty of room to grow.
"For the rest of the year, we will aggressively expand our research and development and sales teams to drive improvements in technology and monetization," Jennifer Li, Baidu's chief financial officer, said in a prepared statement.
Some analysts think that Baidu's strong quarter and recent stock movement had more to do with Google's exit from the China search market than Baidu's fundamentals.
"Not much has changed except that Baidu's biggest competitor has left," said Daniel Ruby, research director at Chitika Inc., an online advertising network. "It's free and easy for Baidu now -- who's really left there to challenge it?"
But Ruby also said that Baidu has tremendous growth potential independent of its competition.
"No one has really found the key to monetizing search in China," he said. "You've got to expect that Baidu will find better ways to monetize the incredible market share that they have. So I don't think this growth is temporary."