Dodge Calibers in U.S. gas pedal probe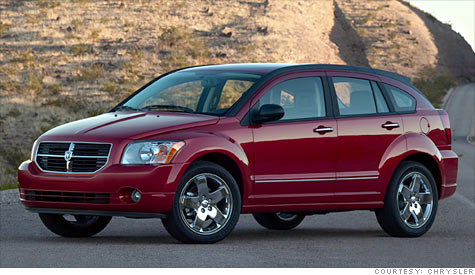 NEW YORK (CNNMoney.com) -- The National Highway Traffic Safety Administration is investigating sticking gas pedals on about 10,000 Dodge Caliber compact cars.
In a small number of cases, parts of the gas pedal assembly have apparently fallen off, causing the pedals to come out of alignment and become stuck. The pedals involved in the cases are made by CTS Corp. the same supplier that made gas pedals involved in a massive Toyota recall for sticking gas pedals.
However, the actual cause of sticking in the Toyota and Dodge cases appear to be unrelated.
The investigation has narrowed the problem down to 2007 model year cars manufactured during a five week period in March and April of 2006, according to a statement Monday by Chrysler Group, which manufactures the Dodge Caliber.
No accidents or injuries have been reported in connection with the problem, Chrysler said.
The Dodge Caliber, like all Chrysler Group vehicles, has a system called "brake override" in which pressing the brake pedal automatically cuts engine power, making the vehicle easier to control even if the gas pedal becomes stuck.
The investigation is based on five complaints to NHTSA. In four of the cases, a mechanical part of the gas pedal was found on the floor of the vehicle.
Chrysler Group is offering free pedal inspections to owners of 2007 Dodge Calibers whose vehicles were manufactured during the period in question.
Other cars that share engineering and assembly lines with the Caliber - the Jeep Compass and Jeep Patriot - are not involved in the investigation because they did not share the same gas pedal design during the 2007 model year, a Chrysler spokesman said.
A spokesman for CTS did not immediately respond to a request for comment on the matter.