Corvettes recalled for steering column issue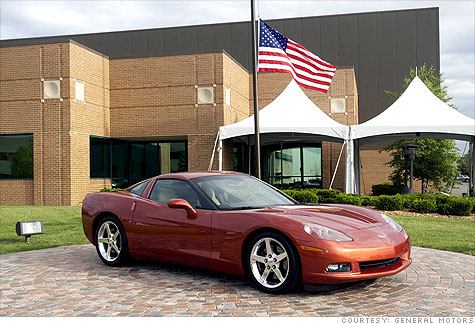 NEW YORK (CNNMoney.com) -- General Motors is recalling about 40,000 Chevrolet Corvette sports cars because of a problem in which repeatedly adjusting the position of the steering column can cause the cars' electronic stability control activate when it shouldn't.
In some model year 2005 and 2006 Corvettes equipped with a tilting and telescoping steering wheel, repeated adjustment of the steering column position can cause the electrical connection to an electronic steering sensor to become loose.
The loose connection can cause the sensor signal to be interrupted, a situation that the car's Electronic Stability Control, or ESC, computer interprets as indicating the steering wheel has been turned when, in fact, the car is being driven in a straight line.
As a result, the car's ESC system may briefly and lightly apply one or more of the car's brakes, slowing the vehicle and causing it to pull slightly to one side.
ESC is a system that automatically controls the vehicle's engine power and brakes to help a driver maintain control in an emergency situation.
After the problem occurs, the ESC system becomes inoperable, meaning that in an emergency it would not intervene to assist the driver. The system will come back on once the car is turned off and back on again, a GM spokesman said.
In a letter to the National Highway Traffic Safety Administration, GM described the braking problem as "observable but controllable." Drivers can keep the car in line with slight steering correction.
When the problem occurs, the message "Service Active Handling System" appears in the vehicles' gauge cluster. Active Handling System is GM's name for the ESC system in the Corvette.
The problem is rare and occurs only when the steering column is adjusted repeatedly, according to GM.
The automaker will notify owners of affected vehicles so they can have their vehicles repaired. Owners can also call Chevrolet at 1-800-630-2438. To repair the problem, dealers will install a clip to the sensor connector to ensure that it does not come loose.