4 ways to tell if Lloyd Blankfein's days are numbered at Goldman Sachs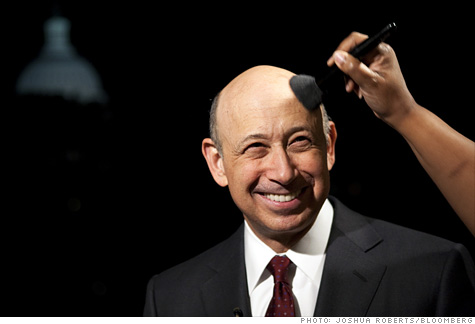 (Fortune) -- If you believe the betters at Intrade, Goldman Sachs CEO Lloyd Blankfein has a 75% chance of keeping his job through the end of the year. But unless you're on the Goldman board, how do you really know? By combing through recent corporate history, we found some warning signs that a CEO is being fitted for his parachute. Here are four that might signal change is in the air.
1. The start of a probe: federal, Congressional, or all of the above:
Nothing makes board members more nervous than outside meddling in a company's affairs. This is particularly true when it comes in the form of a subpoena or search warrant. Blankfein can take solace in the fact that his firm so far is only subject to a civil complaint from the Securities and Exchange Commission. On the other hand, the SEC complaint Goldman (GS, Fortune 500) received is known among securities traders as the "Kiss of Death Notice." That can't be reassuring. As history has proven, federal probes have often served as de facto eviction notices for corner office tenants.
At American International Group (AIG, Fortune 500), this has happened twice since 2005. The departure of CEO Martin Sullivan in June 2008 came after the giant insurer posted huge losses on mortgage investments and amid an investigation by the SEC into contracts tied to subprime mortgages. It had only been a few years earlier that Sullivan replaced his mentor, longtime AIG CEO Hank Greenberg, who stepped down in 2005 as the company came under investigation for its accounting practices.
Federal investigations also didn't help former Merck (MRK, Fortune 500) CEO Raymond Gilmartin, who resigned in May 2005 as a federal investigation reviewed the company's handling of the withdrawal of the painkiller, Vioxx, which studies showed were linked to heart attacks.
And in October 2006, UnitedHealth Group (UNH, Fortune 500) CEO William McGuire was told to leave the company amid federal investigations into problems with the way the Minnesota- based health insurer issued stock options and other compensation for executives.
Whether or not government investigations are the thread that causes Blankfein's job to unravel remains to be seen. Blankfein can thank his underling Fabrice "Fabulous Fab" Tourre and his spectacularly ill-conceived e-mail correspondence for distracting some of the populist outrage away from Goldman's executive suite. While the Feds are said to be looking into criminal charges, for now, the government and Goldman seem content to publicly flog Tourre with a civil complaint.
2. A "statement of confidence" from the board or a big investor
Reassuring on the surface, these bland endorsements serve as cover for hostile intent. The mere fact that a board member thinks it's necessary to reassure the public that their pricey leader is, in fact, competent could serve as notice to freshen up that resume.
Similar events played out in October 2009 when Bank of America (BAC, Fortune 500) Chief Executive Kenneth D. Lewis announced his resignation. Even as directors of the board had earlier indicated support for Lewis, it wasn't enough to keep him in his post amid criticisms following the takeover of Merrill Lynch. Lewis was potentially facing securities charges over Merrill's bonus payments and huge losses shortly before the takeover was completed. Meanwhile, the government continued pressuring him to improve the bank's risk management and succession planning. This reportedly took a toll on the executive, who grew fed up with the criticisms.
Blankfein's endorsement is interesting, because it came not from a board member but from billionaire investor Warren Buffett. This obviously carries a lot more weight. Buffett's got $5 billion invested in Goldman to back up his position. All the typical board member has to offer is Yankee tickets or a tee time at Liberty National. When asked who else should run Goldman if Blankfein stepped down, Buffett said he has "never given that a thought. There's really no reason." Okay then, nothing more to see here.
3. Denials of leaving, thinking of leaving, or knowing the definition of the word 'leave'
A harder-to-read but nonetheless telling sign that things may go awry for your CEO is when despair drives them (or their press office) to put up a defense over their jobs. The most successful corporations look to their CEOs for leadership. Freak-out episodes are a bad sign.
We saw this back in March 2009 when General Motors (GM) CEO Rick Wagoner stepped down at the behest of the government, which provided the automaker billions in emergency loans after the company nearly ran out of money. GM drew up a plan to restructure and survive, but a government task forced determined it wasn't enough. Wagoner continued defending his title, even with a tone of hesitation, telling reporters nobody had asked him to quit and he was determined to finish the restructuring: "I do it because it's important and I feel like I have a responsibility to do it," Wagoner told Bloomberg in mid-March. "I plan to stay here until we get things well in shape and on track and beyond that, we'll see."
And when speculations swirled that Citigroup (C, Fortune 500) CEO Charles Prince would get ousted amid billions of dollars in losses tied to bad debt, the bank's press office aggressively denied talk of an emergency board meeting, saying that the chief executive had the full support of the board. Prince resigned November 2007 during an emergency board meeting.
For the most part, Blankfein has maintained his composure in the public glare. Whatever talk there may be about the CEO's destiny, it has not convinced him to make a public campaign of defending his job. The topic, however, sprang up recently during a recent interview with Good Morning America in which a reporter asked if he had ever thought of resigning or stepping down, to which he replied, with a pause, a nod and then a grin: "No, it hasn't."
4. The full beard, and other signs of disregard for accepted social conventions
As with all other signs, this applies to both male and female execs. Looks matter, especially in the boardroom. Signs that something might be irking your CEO: bags under their eyes, a wrinkled suit, disheveled hair. You get the picture.
At Bank of America, it was Lewis's full beard that signaled to company insiders that something wasn't right. Lewis returned to the office from a Labor Day vacation unshaven - a sight no one at the bank had seen before, according to The Wall Street Journal. He shaved it off the next day.
Now back to Blankfein. Judging by the media snapshots, he appears slightly sleep deprived. But all in all, relatively pressed and clean shaven.