How consumers rewrote the old recessionary rules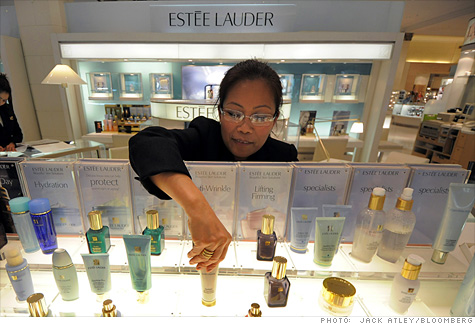 (Fortune) -- The conventional wisdom about consumers and recessions goes something like this: when the economy stinks, people trade down -- or they splurge on trivial indulgences like lipstick or booze. They're more likely to succumb to their vices -- depression, after all, is rampant during economic downturns -- propping up the alcohol, gambling, and candy industries.
As it turns out, the conventional wisdom is mostly bunk.
The theory about rising lipstick sales was famously conceived after 9/11 by Estee Lauder (EL, Fortune 500) chairman Leonard Lauder, who said that when the economy went down, women turned to lipstick as an affordable luxury. Last year, lipstick sales declined 9.8%, according to research group NPD Group.
Liquor sales? Also down, according to the Beverage Information Group. Big casino chains like Penn National Gaming and Pinnacle Entertainment failed to turn profits in both 2009 and 2008.
The candy industry didn't fare that much better. J.P. Morgan analyst Terry Bivens recently wrote that U.S. consumption of "sugar and sweet products" declined more during the latest recession than it has in 20 years. "Contrary to popular belief," he wrote, "the candy category does not appear to be recession resistant."
Was the media grasping at false truisms? Not entirely -- many of those contrarian trends, like Lauder's lipstick index, were true in past recessions. But the Great Recession redefined spending patterns, creating a new way to think about how we shop. Instead of merely trading down and spending impulsively, people shopped smarter, honing in on the products they actually desired and reallocating their budgets to make such purchases possible.
No credit, no problem: saving up to buy stuff
"Consumers have moved from making choices that were relatively passive, carefree, and simple, to ones that are more active, deliberate, and complex," says Graceann Bennett, a managing partner at Ogilvy & Mather. Ogilvy recently conducted a survey of consumers and found that 69% said that the recession caused them to rethink their perspective; 78% said they had changed their spending habits for the better.
For proof that that's not just lip service, look no further than savings rates, which spiked during the crisis (now, consumers seem to be spending the money they saved). The recession put the economy at the forefront of the public consciousness, and the latest Rasmussen poll shows that it has stayed there. The consumer is now not only hyper-aware, but, thanks to the rise of e-commerce, better informed.
"When we're looking at consumer behavior, we don't see people buying the cheapest, which is what you'd expect. We see people trying to be more careful with their money, and make sure they're getting the best value," says Bill Patterson, an analyst at market research firm Mintel.
Patterson notes that people are paying more attention to a product's "value proposition." That sounds like marketing jargon, but it makes sense when you consider that both private label food and iPhones thrived during the recession. Value is a complicated equation that involves not only price, but also innovation and commutability. Smart phones, for example, have high differentiation, so branding carries a premium; brand name food, in the eyes of many, is easily substituted.
According to Bennett, consumers used to think about spending in a vertical manner; when confronted with a purchasing decision, she says, they would look up and down the pricing ladder, if at all. The new consumer, meanwhile, thinks about all of his or her expenditures -- cars, cigarettes, concert tickets, etc. -- at once. We're all walking balance sheets now.
"Cross-category behavior is something that's very new in terms of how people are making decisions," she says. For example, Ogilvy's survey results show that Starbucks (SBUX, Fortune 500) customers chose to cut out discretionary purchases of items like clothing during the recession rather than switching to a lower-end coffee.
Buying less of the same stuff
Another surprising phenomenon, says Linda Bolton Weiser, an analyst at Caris & Co., was that many consumers simply cut back on the frequency of their purchases. "With hair care, you saw sales growth doing better than volume growth," she says. "The lowest price point shampoos, like Suave and VO5, did worse than everything else."
The steakhouse chain Outback saw same-store sales drop by 10.7% during the third quarter of 2009. McDonald's' (MCD, Fortune 500) same store sales went up. But that doesn't mean Outback loyalists were giving up their steaks for Big Macs -- they're not mindless drones, shuffling between restaurants as their income rises or drops.
What's more likely, says Bennett, is that customers were making complex behavioral decisions, whether that means going to Outback once a month or grilling steaks at home. We've shifted from doing budgetary algebra to calculus, she says, and the trend towards rationalism is likely to stick -- at least until the next recession proves it wrong.