Wall Street's next move: Betting on Hollywood
NEW YORK (CNNMoney.com) -- Could predicting the next box office flop make you rich? Not if Hollywood has its way.
Last month, the Commodities Futures Trading Commission approved two exchanges that would give investors the chance to wager on the future box office performance of new movies.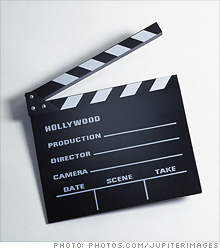 But backlash from Hollywood and opposition from lawmakers trying to curb risky speculation on Wall Street have dampened hopes that film futures will ever debut.
Cantor Fitzgerald's Cantor Futures Exchange and Veriana's Trend Exchange were both approved in April, but neither can begin trading until the CFTC approves specific contracts. Meanwhile, the Senate Agricultural Committee has introduced a ban on box office trading that is awaiting approval from the Senate.
"If there were any real support for this within the industry, there wouldn't be a congressional ban on it," said Michael Greenberger, a professor of law at the University of Maryland and former director of Trading and Markets at the CFTC. "So I would say -- in gaming terms -- that there's a better-than 50-50 chance it will be banned."
If the exchanges get the green light, investors will be able to place bets on whether they think an upcoming film will exceed expectations or tank in theaters.
Getting in on the action
Traders can buy or sell contracts that predict a film's performance during the first 24 days of release for as little as $50 on Cantor Exchange. Trend Exchange will sell contracts based on the movie's performance during only the opening weekend and requires a minimum of $5,000.
At Cantor Exchange, each dollar of a given contract is the equivalent of $1 million in box office revenue, and contracts are determined by an initial first-day auction.
For example, a contract for "The Expendables," the first movie Cantor would let investors bet on, may end up being valued at $100 dollars if the market predicts the film will bring in $100 million.
So if you think "The Expendables" is going to make more than $100 million during its first 24 days in theaters, you could buy a contract worth $100.
But if you expect the film to disappoint, you could sell the contract for $100, meaning that if the movie brings in less than $100 million, you would benefit from the film's flop.
If "The Expendables" ends up earning $200 million, the contract seller would lose $100, while the buyer would make $100.
Proponents of the exchanges say that futures contracts can help Hollywood hedge its losses, essentially offering insurance that would allow risk to be defrayed to traders.
Cantor Exchange president Richard Jaycobs said film futures would be traded just like any other financial contracts, and would help finance the industry.
"Creating a public transparent market will broaden an industry that has been down substantially from a lack of financing," he said.
"If you have a market that can value how a film is going to perform, the fact that you can share that risk means that it's much easier to finance."
Lifting the curtains too soon
Industry organizations say that letting Wall Street make legalized bets on films would invite manipulation and insider trading.
"There's lots of rumor and gossip about a movie before it opens, that's what people talk about," said Motion Picture Association of America President and Interim CEO Bob Pisano. "But this is going to put financial authenticity and financial authority behind what are simply guesses as to how a movie will open."
Futures exchanges are typically created to help an industry, said Greenberger. So the trading of an item that even the industry itself opposes should be considered excessive speculation.
"When you have the principal underlying business saying 'we don't want this,' that's a sure sign that the only people interested in it are the people who want to speculate."
Some lawmakers who are already trying to put stricter regulations on Wall Street risk-taking don't think this new form of betting is such a good idea either.
Senators Dianne Feinstein, D-Calif., Barbara Boxer, D-Calif., George LeMieux, R-Fla., and Al Franken, D-Minn., wrote a letter to the CFTC last month asking the commission to delay approval of film futures while the Senate is still considering reforms on derivatives trading.
One such reform is a ban on box office futures, part of a bill sponsored by Senator Blanche Lincoln, D-Ark., chairwoman of the Senate Agriculture Committee and overseer of the CFTC.
The only other item outlawed from derivatives trading is the onion, which was banned in 1958 because onion farmers decided a futures exchange would harm them more than help them.
Much of the film industry has expressed similar concerns about box office trading.
"The trading of commodities is principally done by the people who are in the business who need to hedge their risk, and they then invite speculators in to help their commercial interest," said Greenberger.
"But this is the other way around -- it has no fundamental economic purpose other than to let people enjoy gambling on box office receipts, and this is not the way the futures market has been set up throughout history."
CNN's Megan Clifford contributed to this report