American made ... Chinese owned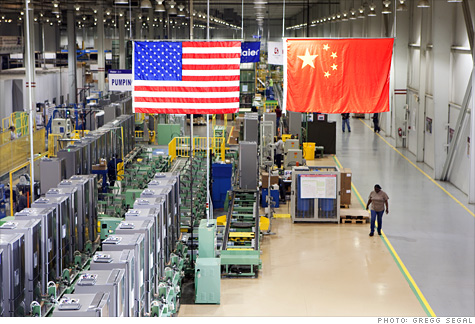 (Fortune) -- About a mile past the Bountiful Blessings Church on the outskirts of Spartanburg, S.C., make a right turn. There, tucked into an industrial court behind a row of sapling cherry trees not much taller than I am, past a company that makes rubber stamps and another that stitches logos onto caps and bags, is a brand-new factory: the state-of-the-art American Yuncheng Gravure Cylinder plant. Due to open any day now, it will make cylinders used to print labels like the ones around plastic soda bottles. But unlike its neighbors in Spartanburg, Yuncheng is a Chinese company. It has come to South Carolina because by Chinese standards, America is darn cheap.
Yes, you read that right. The land Yuncheng purchased in Spartanburg, at $350,000 for 6.5 acres, cost one-fourth the price of land back in Shanghai or Dongguan, a gritty city near Hong Kong where the company already runs three plants. Electricity is cheaper too: Yungcheng pays up to 14¢ per kilowatt-hour in China at peak usage, and just 4¢ in South Carolina. And no brownouts either, a sporadic problem in China. It's true that American workers are much more expensive, of course, and the overall cost of making a widget in China remains lower, and perhaps always will.
But for hundreds of Chinese companies like Yuncheng, the U.S. has become a better, less expensive place to set up shop. It could be the biggest role reversal since, well ... when Nixon went to China. "The gap between manufacturing costs in the U.S. and China is shrinking," explains John Ling, a naturalized American from China who runs the South Carolina Department of Commerce's business recruitment office in Shanghai. Ling recruited Yuncheng to Spartanburg, and others too: Chinese companies have invested $280 million and created more than 1,200 jobs in South Carolina alone.
Today some 33 American states, ports, and municipalities have sent representatives like Ling to China to lure jobs once lost to China back to the U.S.: Besides affordable land and reliable power, states and cities are offering tax credits and other incentives to woo Chinese manufacturers. Beijing, meanwhile, which has mandated that Chinese companies globalize by expanding to key markets around the world, is chipping in by offering to finance up to 30% of the initial investment costs, according to Chinese business sources.
The enticements are working. Chinese companies announced new direct investments in the U.S. of close to $5 billion in 2009 alone, according to New York City-based economic consultancy the Rhodium Group, which tallied the numbers for Fortune. That's well below Japanese investment in the U.S., which peaked at $148 billion in 1991, but a big jump from China's previous investments, which had been averaging around $500 million a year. Chinese firms last year acquired or announced they were starting more than 50 U.S. companies. And when China finally allows the value of its currency, the yuan, to appreciate -- and it's just a question of when -- Americans can expect to see Chinese projects, small today, really take off and have an impact on the U.S. economy. This could be a good thing for relations between the two countries. "It will take many years to balance out the flow of U.S. investment into China," says Dan Rosen, a principal at the Rhodium Group. But, he says, China's aggressive interest in U.S. investment suddenly gives Washington some leverage as it seeks to negotiate with Beijing on tariffs, trade issues, and economic policy.
None of that matters much in Spartanburg. Skilled workers at American Yuncheng will earn $25 to $30 an hour, line operators $10 to $12. That's a lot more than the $2 an hour that unskilled labor costs in China, but the company can qualify for a state payroll tax credit of $1,500 per worker (for any company creating more than 10 jobs). And by being closer to companies like Coca-Cola, Yuncheng can respond more quickly when they need new labels designed to show that a product has reduced its fat content or added more flavor. If business goes well, company president Li Wenchun expects to double the size of his operation, maybe in five to 10 years, and employ up to 120 Americans. "I'd like it to be next month, but it depends on how fast we develop the market here," he tells me through a Mandarin interpreter.
So far there's little sign of anti-Chinese sentiment among South Carolinians, who watched their state lose its cotton-based textile-manufacturing industry to low-cost countries like China. Fortune asked Sen. Jim DeMint, a Republican torchbearer for conservative causes, what he thinks of communists creating work in his home state. "South Carolina is one of the best places in the world to do business, and that's why so many international companies are moving jobs into our state" is his only reply.
Brenda Missouri, a 43-year-old leaks tester who works for appliance maker Haier, speaks about her employer in glowing terms. Haier was the first Chinese company to build a factory in the U.S. -- a refrigerator plant in Camden, S.C., in 2000. "They're good business folks; they get the job done," she says. As for communism? "Doesn't matter," she shrugs. "It's money that makes the difference."
Read the full story on American made ... Chinese owned.