Faisal Shahzad's $65,000 home equity piggy bank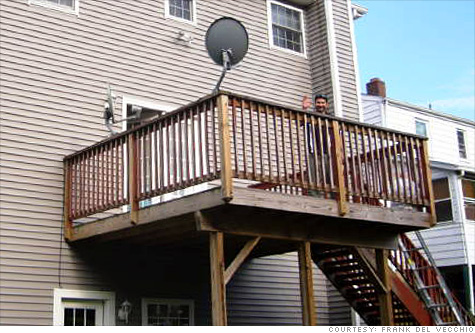 SHELTON, Conn. (CNNMoney.com) -- Faisal Shahzad lived on the downslope side of affluence in the small Connecticut hamlet of Shelton. On Monday, while Shahzad sits in a jail cell in downtown New York City, a judge is scheduled to foreclose on his home, clipping Shahzad's last attachment to the American dream.
Like many other homeowners across the U.S., he used his house as a piggy bank. Shahzad, who is accused of trying to detonate a Nissan Pathfinder in the center of Times Square last week, took out a second mortgage on the home just months before he left the country for what prosecutors say was a stretch of bomb-making training in Waziristan, Pakistan.
That second mortgage gave him access to a $65,000 credit line, secured by the tidy three-bedroom suburban house he bought in July 2004 for $273,000. Though the frothy real estate market was flinging around cheap money, Shahzad put down the traditional 20%, financing a mortgage balance of $218,400 at a 4% interest rate.
The 30-year-old had a steady job as a financial analyst at Affinion in Norwalk, Conn. He was trading up from a condo he had recently sold. He seemed like a good risk.
And for years, he was. Sure, he repeatedly tried to sell the house, listing it for the boom-time price of $399,000 just one year after buying it -- but who didn't try to hit the real-estate jackpot? And while others were draining their homes of equity, Shahzad stayed away from extra mortgages and loans for the first few years he owned the house. He married Huma Mian, added her name to the deed in December 2007, and kept mailing off his mortgage checks each month.
So when he approached Wachovia Bank in January 2009 for a $65,000 loan secured by his home, no red flags were raised. They approved the money, and he suddenly had a line of credit. Wachovia, now Wells Fargo, did not return calls requesting comment.
Three months later, Shahzad would become a U.S. citizen. Four months later he would leave his job. Five months later he would stop paying his mortgage and leave for Dubai and, eventually, Pakistan.
The house sat empty after he left. In September 2009, Chase (JPM, Fortune 500) initiated foreclosure proceedings, saying Shahzad owed them $200,673.49. Chase, and its local attorney, declined to comment on the case.
Connecticut state marshal Mark Pesiri served the papers on the abandoned home, in accordance with Connecticut procedures.
"I don't get too many up there," Pesiri said.
It's true. There's hardly a For Sale sign or foreclosure notice to be seen along the three-mile stretch of Long Hill Avenue that Shahzad lived on. His 7-year-old, grey-sided house is the noticeable exception. There's a lockbox on the front door at #119, where the lawn is erratically mowed and trash has accumulated in front of the garage door.
Two days after the foreclosure papers were delivered, Chase hired appraiser Scott Iadarola to inspect the property. He valued it at $245,000, putting Shahzad $20,673.49 under water -- meaning Shahzad owed the banks that much more than his property was worth.
Shahzad -- listed as Faisal "Zhahzad" in the legal filings -- never responded to any of these notices and or court actions. He was in Pakistan, where he has told investigators he was studying bomb making. When he returned in February 2010, without his wife or children, he didn't make up his missing mortgage payments, or try to execute a short sale, or even return the keys. Instead, he rented an apartment 13 miles away in Bridgeport, Conn.
Two months later, he would allegedly drive a Nissan Pathfinder loaded down with fertilizer, propane tanks, gas cans, fireworks, clocks and wiring, and leave it smoking on a street in Times Square.
Meanwhile, the interest meter on his Shelton home kept ticking. And, as many American homeowners now understand far too well, home prices kept falling. When Shahzad house was reappraised on March 15, 2010, Iadarola declared the property to be worth just $240,000 -- 12% less than Shahzad paid for it six years ago.
And so on Monday, when Shahzad's case is scheduled to appear before a judge in Connecticut Superior Court, he will be just one more of the millions of American homeowners who hasn't paid his mortgage in more than a year and is sitting on a debt -- in this case, $37,870.38 -- that outstrips the value of the home buried beneath it.