Obama to toughen big oil oversight
WASHINGTON (CNN) -- The Obama administration, eager to show it is responding to the Gulf Coast oil spill, will announce plans Tuesday to split up an Interior Department agency that oversees offshore drilling, White House officials confirmed.
Spokesman Robert Gibbs first sent out a Twitter with the news, and then confirmed its accuracy, addressing the "plan to split offshore drilling agency -- one to inspect oil rigs and enforce safety, other to oversee leases, royalties."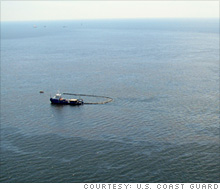 The official announcement by the Department of Interior will be made at an afternoon news conference with Secretary Ken Salazar. According to a DOI release, Salazar will address new reforms "to toughen oversight of offshore oil and gas operations."
Salazar will propose splitting the Minerals Management Service, which is the government agency that oversees the oil business, into two separate ones. One agency would investigate oil companies, inspect oil rigs, and enforce safety regulations. The second would collect oil drilling royalties and oversee drilling leases.
As it stands now, MMS collects oil and gas drilling royalties and enforces regulations that apply to drilling.
Critics, like Sen. Bill Nelson, D-Florida, say it's a conflict of interest for MMS to do both. In a letter to the Acting Inspector General Mary Kendall, Nelson wrote, "I ask that you determine in your investigation the extent to which the oil and natural gas industry exercised influence in the agency's rulemaking process." Nelson has long been an opponent of expanding offshore drilling.
Following the Gulf Coast oil spill, MMS was accused of understating the amount of previous oil spills in the region.
President Barack Obama ordered a 30 day review of offshore drilling following the Deepwater Horizon oil rig explosion. Tuesday's reforms are expected to be the first of several changes coming from the Interior Department.