Goldman settlement with SEC could be costly
NEW YORK (CNNMoney.com) -- If you can't fight the federal government, you may as well pay 'em. Especially if you're Goldman Sachs.
In recent days, Wall Street has been abuzz with speculation that Goldman attorneys have entered preliminary talks with the Securities and Exchange Commission with the hopes of settling the outstanding federal fraud charges now facing the company.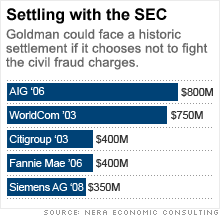 Executives at the New York City-based investment bank have offered similar hints.
"There are a myriad of opportunities out there and I won't rule any of them out," Gary Cohn, the company's president and chief operating officer, said at the conclusion of the firm's annual shareholder meeting last week.
A settlement with the SEC would likely bring to an end at least some of the negative publicity Goldman has had to endure since regulators charged the company and one of its employees with defrauding investors in the sale of a complex mortgage investment dubbed "Abacus."
Determining just how much Goldman (GS, Fortune 500) might be on the hook for however, is not simple.
Some legal experts said that a settlement could exceed the $1 billion the SEC claims that investors lost on the deal. That's due to the high-profile nature of the case and the lack of bargaining power Goldman may have with regulators.
"As a principal regulator, [the SEC] can negatively impact Goldman's ongoing businesses," said David Desser, managing director of the Chicago-based Juris Capital, a privately-held fund that invests in commercial litigation. "That is a big hammer that no other litigant has against an adversary in court."
A penalty of more than $1 billion would rank as the largest SEC settlement in the post-Sarbanes-Oxley era, eclipsing the $800 million AIG (AIG, Fortune 500) paid to the agency to settle claims related to misstatement of financial results in 2006, according to NERA Economic Consulting.
Others suggest that the SEC may be willing to accept just a fraction of that amount, citing some of its recent settlements as well as the mountain of other enforcement cases the agency has to deal with.
But what Goldman ultimately pays may prove to be of secondary importance.
After all, for a company that is expected to earn $13 billion in pre-tax profits in the next three quarters, according to Thomson Reuters, any fine will likely be quite manageable, especially if a settlement allows Goldman to avoid being in the public spotlight as much it has during the last year.
Instead, legal experts suggest that Goldman may be particularly fearful of any additional demands the SEC may have as part of a settlement.
The agency could, for example, require the company to create greater distance between its mortgage underwriting and trading operations or provide greater transparency to clients about its different investment products.
"Part of it was the difficulty in valuing these derivatives," said Elizabeth Nowicki, a securities law professor at Boston University, who formerly served as a staff attorney for the SEC. "It might be reasonable for the SEC to insist on some best practices disclosures regarding valuation."
Such a move would not be a major departure for the SEC. In the high-profile settlement it reached earlier this year with Bank of America (BAC, Fortune 500) over bonuses paid to Merrill Lynch employees, the banking giant was required to implement a number of corporate governance measures through 2013, including giving its shareholders an advisory vote on the pay of its executives.
Any deal that is struck between Goldman and the SEC might also resolve the fate of Fabrice Tourre, the 31-year-old French trader who helped broker the now infamous investment deal.
Most experts agree that if Tourre is included in a settlement, chances are he could face a fine as well as a suspension from the securities industry for as much as a year.
Goldman Sachs, which has already moved to distance itself from the London-based employee, will most certainly be looking for ways to insulate itself from any future legal action.
Experts said Goldman could also push the SEC to include language in any settlement that Goldman neither "admits nor denies" the SEC charges.
James Cox, a securities law professor at Duke University, said that the company might also attempt to seek a so-called "global settlement," which would absolve the company of any outstanding current or future federal or state lawsuits over the 2007 Abacus transaction or similar mortgage deals.
That would at least alleviate some of the legal headaches the firm is currently facing.
In two separate securities filings this month, Goldman acknowledged it now faces a variety of related lawsuits, as well as investigations from a number of international regulatory agencies, including Britain's Financial Services Authority, over the sale of mortgage-related investments.
"[Goldman] wants peace and assurance going forward," said Cox.