Meet Dunkin's Culinary Masterminds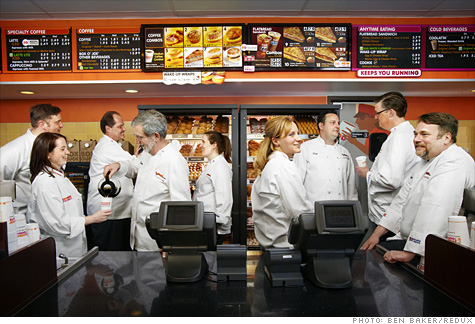 (Fortune) -- Dunkin' Donuts has always sold a lot of bagels -- in addition to, well, doughnuts. But about a year ago it decided it wanted to sell a lot more. It's not as easy as you think. Green bagels on St. Patrick's Day? Add 15% more poppy seeds? A Dancing With the Stars tribute bagel? You get the picture. The job fell to the Dunkin' Brands Culinary Innovation Team. The crew's bakery specialists experimented with more than just flavor, trying new forms to make something that topped even the traditional bagel in portability. They tested everything from a pretzel shape to a baguette shape. They worked to perfect their toppings, in one instance toning down the jalapeño flavor. Ten months later the Bagel Twist made its national debut in varieties like cheddar cheese and French toast.
The launch was just one of about 20 that the 18-member team led by executive chef Stan Frankenthaler sends to market every year for Dunkin' Donuts and Baskin-Robbins brands. (Dunkin' Brands is owned by private equity firms Bain Capital, Carlyle Group, and Thomas H. Lee Partners.) From its kitchen at headquarters in Canton, Mass., the squad not only builds on its strong coffee culture and playbook of more than 1,000 doughnut varieties, but also brings the 60-year-old chain into new food frontiers in the constant quest to boost revenues and profit margins.
The culinary department predates Frankenthaler's arrival in 2005, but before he came onboard it relied on suppliers for ideas that it would tweak to fit the Dunkin' image. That changed when a new management team revamped the way the company looked at innovation. New food products would now be designed from within and built specifically for the brand. Frankenthaler, who was hired to spearhead the strategy, had a pedigree that included running his own high-end Boston restaurant, Salamander. But he could still relate to Dunkin'. "I've had many summer love affairs with the iced coffee and the French cruller," he says.
Now at the helm of the Dunkin' team, Frankenthaler encourages his staff to think beyond doughnuts, which has led to putting egg whites on its menu and creating sprinkles that change color for its Baskin brand. Team members also have the luxury of delving into new areas. Inspired by Dunkin's successful hash brown launch, sous-chef Phil Kafka spent three months on potato innovations, even attending a potato conference. ("They really do aid your digestion," he says.)
Not every product makes it to market, and each one could go through dozens of iterations. Take the team's mission to create a zero-grams trans fat menu. Rick Golden, manager of donut excellence (yes, that really is his title), tested 28 varieties of shortening. And sometimes the new products just don't work. The whole wheat doughnut, for example, was a dud. Next up for the team? That's a closely guarded secret, says Frankenthaler. "I can't even tell my wife."