Treasurys continue to climb
NEW YORK (CNNMoney.com) -- Treasurys extended gains Friday as investors continued to worry about European debt and the global economic recovery.
What prices are doing: The benchmark 10-year note rose 21/32 to 100-13/32, pushing the yield down to 3.45% from 3.54% on Thursday. Bond prices and yields move in opposite directions.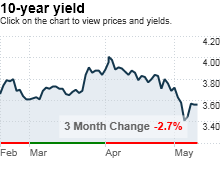 The 30-year bond was the one exception, falling 2-21/32 to 100-20/32 and yielding 4.34% after a $16 billion auction on Thursday.
The 2-year note edged up 3/32 to 100-13/32 with a 0.78% yield. The 5-year note rose to 101-19/32, yielding 2.16%.
What's moving the market: Markets tumbled on Friday as investors feared that the euro zone's economic problems could spread to the U.S.
The euro dropped to an 18-month low against the dollar, stocks plunged and oil fell, pushing investors into the safety of the bond market. U.S. government-backed Treasurys are viewed as low-risk investments for investors and are particularly attractive during times of economic uncertainty.
The fear in the market overshadowed a slew of economic reports from the government Friday, such as an upbeat reading on retail sales.
The Commerce Department said retail sales rose 0.4% in April, double what economists surveyed by Briefing.com were expecting. Sales excluding autos rose 0.4%, slightly missing the 0.5% gain economists had forecast.
The University of Michigan's consumer sentiment index rose to 73.3 in May from 72.2 in April, coming in lower than the 73.5 reading expected by economists.
Meanwhile, the Federal Reserve reported that industrial production rose 0.8% in April, in line with economists' expectations.
What analysts are saying: Fear about overseas debt has taken center stage lately, said Kevin Giddis, executive managing director at Fixed Income Capital Markets, in a research note.
Even after a $1 trillion rescue package was created to aid struggling European nations and stabilize the euro, investors are skeptical about its overall effectiveness.
"The euro has once again weakened relative to other developed economies' currencies as investor concerns intensify," he said. "There's one camp arguing that the nearly $1 trillion bailout package may not make a meaningful difference to the deteriorating conditions in some of the weaker member economies. Others are worried that a program of that size may be inflationary."
Lending rates: Bank-to-bank lending rates for three-month loans continued to rise on Thursday.
The London interbank offered rate, or Libor, ticked up to 0.445% after rising to 0.436% on Thursday.
Libor is a daily average of interest rates that 16 London banks charge each other to lend money, and is used as a benchmark to calculate adjustable-rate mortgages and other loans.
Higher Libor rates indicate less lending among banks, while lower levels signal an increasing willingness to lend.