Investors: All eyes abroad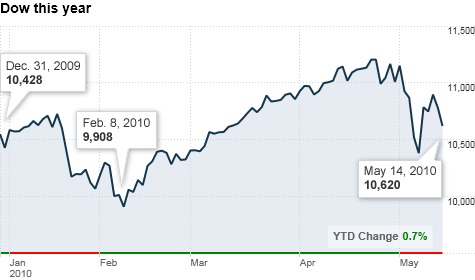 NEW YORK (CNNMoney.com) -- Another tough week for the markets has left investors wary of equities and more focused on bonds, gold and the dollar.
Worries that Europe's debt crisis will spread have driven the selling. At the same time, stocks are amidst what some analysts say is an unsurprising pullback after a 14-month advance.
"There are strong concerns about Europe that are having an impact, but this is also just a typical correction," said Matt King, chief investment officer at Bell Investment Advisors.
A correction is signaled by a decline off market highs of at least 10% on a closing basis. Stock have made two previous attempts at this since bottoming in 2009. But in both cases, investors used the dips to come back in and push stocks higher.
This time could be different. For one thing, stocks are even more stretched. Then there's the European debt crisis.
On an up note, for all of last week's churning, the major gauges ended up finishing higher on the week, cutting some of the losses following the previous week's bloodletting.
For example, the Nasdaq is now down 7.2% off the rally highs hit in April after finishing the previous week down by 10.5%. The Dow Jones industrial average is off 5.2% from its rally highs and the S&P 500 is off 6.7%.
Considering that the market was up roughly 80% off those March 2009 lows, the recent pullback has been pretty modest.
Stocks probably have another few percentage points to go on the downside, King said.
Last week began with a strong rally as worries about Europe's debt crisis were mitigated by leaders announcing a nearly $1 trillion aid package.
But any euphoria about the size of the deal gave out as the week wore on and investors realized the long-term issues that had fueled the debt hadn't disappeared. Violence in Greece as the nation attempted to impose so-called "austerity measures," and ongoing signs of weakness in Spain and Portugal were also fueling the panic.
"They're issuing debt to pay back debt," said Dave Rovelli, managing director of U.S. equity trading at Canaccord Adams. "That's a short-term solution. In six months, then what?"
In the week ahead, investors may take a little comfort if Greece makes its first big debt payment Wednesday, as expected. The looming May 19 deadline, when the nation must pay back over $11 billion dollars was among the factors causing the anxiety.
The week ahead also brings earnings from a few companies, including Wal-Mart Stores, Hewlett-Packard and Dell, and reports on housing, inflation, jobs and manufacturing.
Investors will also remain attuned to the euro, which plunged to an 18-month low versus the dollar last week, hurting big multi-national companies that benefit from a weak dollar. Gold will also be in focus after jittery investors flocked to the safe-haven play. COMEX gold spiked to an all-time high of $1249.70 during the session Friday, before retreating.
On the docket
Monday: General Motors and Lowe's (LOW, Fortune 500) both report quarterly results.
Tuesday: The Producer Price Index, a measure of wholesale inflation, is due before the start of trading. PPI is expected to have risen 0.1 in April after rising 0.7% in March, according to a consensus of economists surveyed by Briefing.com.
The so-called Core PPI, which strips out volatile food and energy prices, is expected to have risen 0.1% in April after rising 0.1% in March.
The Census Bureau releases numbers on April building permits and housing starts before the start of trading. Housing starts are expected to have risen to a seasonally-adjusted annual unit rate of 675,000 from 626,000 previously. Building permits, a measure of builder confidence, is expected to have risen to a annual unit rate of 715,000 from a 680,000 annual unit rate in March.
Wal-Mart Stores (WMT, Fortune 500) reports results in the morning, while fellow Dow component Hewlett-Packard (HPQ, Fortune 500) is due to report results in the afternoon.
Wednesday: The Consumer Price index, a measure of consumer inflation, is due before the start of trading. CPI is expected to have risen 0.1% in April after rising 0.1% in March. Core CPI is expected to have be unchanged, just as it was in March.
The weekly crude oil inventories report is also due in the morning.
Thursday: The weekly jobless claims report from the Department of Labor is expected to show that 440,000 Americans filed new claims for unemployment last week versus 444,000 in the previous week. Continuing claims, a measure of those who have received benefits for a week or more, are expected to have fallen to 4,600,000 from 4,627,000 in the previous week.
State-by-state unemployment data are also due.
Shortly after the start of trading, the Conference Board releases the index of leading economic indicators. The index is expected to have risen 0.2% in April after rising 1.4% in March.
The Philadelphia Fed index for May is also due after the start of trading. The Philly Fed is expected to have risen to 21.3 in May from 20.2 in April.
Dell (DELL, Fortune 500) reports results in the evening.