Blackwater's makeover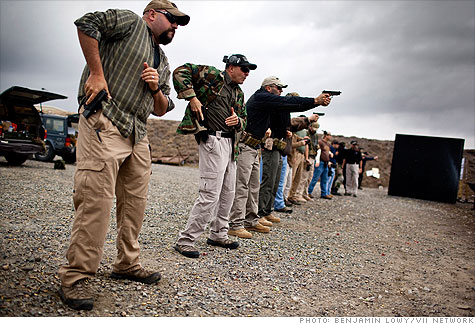 (Fortune) -- Blackwater wants you to forget everything you've ever heard about it: The 2007 shootings at Nisour Square in Baghdad that left 17 Iraqi civilians dead, the allegations of bribery and weapons violations, the relations with Iraqis that deteriorated so badly the company was kicked out of the country altogether. A year ago the military contractor adopted a new name, Xe (pronounced zee, and short for the inert gas xenon), and a new CEO, Joseph Yorio.
But has Blackwater really changed? Controversial founder Erik Prince, chairman and sole owner of the company, insists he has turned over all the company's operations to Yorio, a former Green Beret and shipping executive. Yet the company's problems -- including its reputation for arrogance and cutting corners in the field -- won't go away overnight.
Since leaving Iraq, the company has returned to its roots, training military and law enforcement officers. That's how Blackwater began in 1997, when Prince opened a huge training facility in Moyock, N.C. ("Blackwater" is a reference to the dark swampy water that runs throughout the compound.) Now the company is in the running to win a $1 billion contract to train Afghanistan's national police force, a job so important that it could determine how long the U.S. military remains in that country.
The contract in Afghanistan, which the Pentagon will award early next year, could go a long way in improving Xe's financial outlook. Yorio tells Fortune the company lost half its revenue when it left Iraq. (The private company won't disclose figures, but sources say at its peak Blackwater had annual sales north of $1 billion.)
But its reputation continues to take hits. In May, five former employees were charged with weapons violations, and Sen. Carl Levin, chairman of the Senate Armed Services Committee, held hearings earlier this year pinpointing reckless behavior by the company under its subcontract to train the Afghan National Army. Levin has also sent a letter to the Pentagon saying it should consider Blackwater's past problems in Afghanistan as it decides whether to award the company a new contract to train the country's police.
Yorio acknowledges the challenges he faces in running a tarnished business, but he says the changes at Xe aren't just cosmetic: a new compliance officer who used to work at the State Department now vets all Xe projects to make sure employees follow government rules and protocols.
The upshot: Xe wants to reinvent itself into what founder Prince calls "a normal, regular business." (Competitors in the training business include DynCorp and Triple Canopy.) But if the company succeeds in winning the $1 billion contract in Afghanistan, Prince should expect more intense scrutiny. He should know better than anyone: there's nothing normal or regular about working in a war zone.