Treasurys little changed amid volatile trading
NEW YORK (CNNMoney.com) -- Treasurys were little changed Wednesday, as investors looked for direction amid mixed signals out of Europe and the United States.
What prices are doing: Prices straddled the breakeven point much of Wedneday before dipping a bit after the afternoon release of the Federal Reserve's upbeat minutes.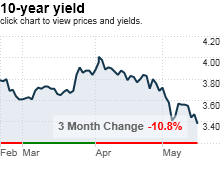 The benchmark 10-year note fell 2/32 to 101-7/32, pushing the yield up to 3.36%. Bond prices and yields move in opposite directions.
The 30-year bond dropped 3/32 to 102-12/32 and yielded 4.24%; the 2-year note inched lower to 100-14/32, with a 0.76% yield. The 5-year note was down 7/32 to 101-26/32, yielding 2.11%.
What's moving the market: Treasurys struggled to find direction Wednesday as investors weighed mixed signals in Europe and the United States.
Germany announced it would ban some "naked" short selling and said its banks are not on the brink, which helped the euro rise against the dollar for the first time in several trading sessions. The euro hit a fresh four-year low on Tuesday, but rose 1.5% against the dollar Wednesday.
But this assurance from German officials did little to assuage investors, who are wary about the strength of Europe's banks, and Treasurys rebounded.
The government-backed bonds turned lower, however, after the Fed raised its outlook for economic growth and reduced its estimate for the unemployment rate.
Investors view Treasurys as "safer" assets in times of economic uncertainty because they are backed by the U.S. government. In recent weeks, the euro zone's debt concerns and worries about the sustainability of the shared currency have caused riskier assets, such as stocks traded in global markets, to plummet, boosting the government-backed bonds.
What analysts are saying: "Everyone's focused on the euro problem," said William Larkin, a portfolio manager at Cabot Money Management. "The flight to quality has caused a lot of volatility in the treasury market."
Analysts have said that Germany's ban on short-selling is an effort to protect banks from the damage of speculators can cause. But following the announcement, European stock markets fell and U.S. stock markets traded lower as investors continued to move money out of riskier assets, such as stocks and commodities, and into relatively safer ones.
"They would have been better off having a press release, detailing the rationale of the ban and its connection to the larger austerity plans," Larkin said. "It looks like a patch, panic. It doesn't look coordinated."
At yields lower than 3.5% on the benchmark 10-year note, Treasurys are quite expensive, Larkin said. But the trend is unlikely to change in the near-term, as uncertainty clouds Europe.
"As long as fear is out there, Treasurys will trade expensively with very low yields," Larkin said.