Wall Street reform fails test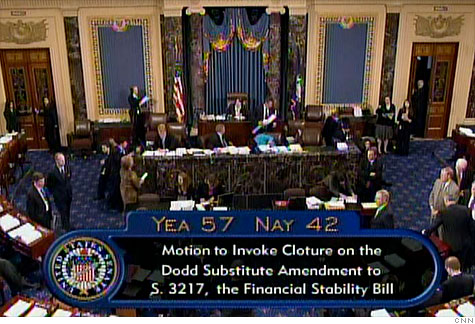 WASHINGTON (CNNMoney.com) -- After months of negotiation and debate, far-reaching legislation to overhaul the rules of Wall Street failed a key test vote in the Senate on Wednesday, casting a shadow over Democratic efforts to push the effort forward.
The measure aims to stop bailouts, shine a light on complex financial products and strengthen consumer protection.
The vote was 57 to 42. Under Senate rules, Democrats needed 60 votes to move ahead to a final vote. Two Democrats opposed the bill, and two Republicans voted for it.
Senate Majority Leader Harry Reid, D-Nev., plans to bring up the bill for another vote on Thursday at 2:30 pm ET. He had wanted a final vote by Friday, but that appears unlikely now.
"Wall Street and, obviously, 39 out of 41 Republicans ... think that things going on, on Wall Street, are just fine," Reid said. "I think that's a real stretch to think the American people think that they want this to go on as in years past."
Republican Sen. Charles Grassley of Iowa said the Democratic move was defeated "because there are important amendments that should be considered but that could have been shut out."
Congress first started working on financial overhaul last spring. The House passed a version in December, and the Senate began drafting bills last November.
Since January 2009, financial services firms have spent nearly $600 million and hired hundreds of lobbyists to influence the debate, according to the Center for Responsive Politics.
What reform means: The legislation would establish a consumer financial protection regulatory agency that could write new rules to protect consumers from unfair or abusive mortgages and credit cards.
It would create a council of regulators that would sound an alarm before companies are in position to trigger a financial crisis. The bill would also establish new procedures for shutting down giant financial firms that are collapsing.
One big issue that remains in flux is a controversial proposal to crack down on banks that trade derivatives.
Senate Banking Committee Chairman Christopher Dodd, D-Conn., introduced a compromise amendment on Tuesday that would water down the proposed ban. But on Wednesday, before the vote, Dodd dropped his intention to bring up the amendment, according to a congressional aide.
The Senate also has yet to vote on a high-profile amendment that would exempt auto dealers from the purview of the proposed new consumer protection regulator.
Votes that crossed lines: The two Republican senators from Maine, Olympia Snowe and Susan Collins, both voted for the bill. Collins said that she thought the month-long debate had been "fair and open." (Reid accuses senator of breaking his word.)
The two Democrats who opposed the bill were Maria Cantwell of Washington and Russ Feingold of Wisconsin. Reid cast a "no" vote at the end in a procedural maneuver allowing him to bring the measure up for another vote.
Cantwell wants the Senate to vote on an amendment reestablishing the firewall between investment and commercial banking. She also wants the Senate to vote on an amendment to strengthen penalties on companies that deal in derivatives that aren't traded transparently.
"Even something like the Hoover Dam, with all the great concrete and all the great engineering ... still has a problem if somebody drills a hole in the bottom of it," she said in a speech after the vote.
Feingold also said the Senate bill didn't go far enough.
"After thirty years of giving in to the wishes of Wall Street lobbyists, Congress needs to finally enact tough reforms to prevent Wall Street from driving our economy into the ditch again," Feingold said in a statement. "As the bill stands, it fails that test."