Home Depot is still a fixer upper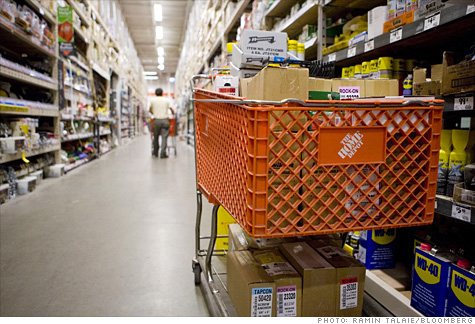 (Fortune) -- When Home Depot reported its first comparable store sales growth in almost four years on Tuesday, plenty of investors wanted to see it as evidence that housing is back. "Our sales are an indication that the economy is recovering and the consumer is back," Carol Tomé, Home Depot's chief financial officer, hopefully told The Atlanta Journal-Constitution.
But while Home Depot had reason to celebrate -- it posted earnings of $725 million and revenue grew by 4.3% -- it may end up being little more than a blip on a slow climb back from the abyss. The housing market has shown small signs of improvement, but no indication that a strong rebound is imminent - earlier this week the government reported a 10.7% drop in building permits for single-family homes in April.
So how did the big box retailer manage to beat expectations last quarter? Extenuating circumstances, including a lot of help from Uncle Sam.
Home Depot (HD, Fortune 500) got a backdoor bailout due to first-time homebuyers tax credit, which Congress extended through April of this year. With more Americans jumping to buy new homes before the program's end, Home Depot sold more lumber, bathtubs, and light bulbs to outfit those homes. It also got a boost from the Cash For Appliances Rebate Program, which gave customers an added incentive to trade in their old appliances for new, energy-efficient replacements.
The Obama administration isn't the only thing to credit for Home Depot's results. The company cited the recent implementation of a new supply chain system for helping it increase its efficiency, thereby boosting sales.
Though its first quarter was strong, investors shouldn't expect Home Depot maintain that rate of progress in consecutive quarters, even with long-term improvements like the supply chain initiative. Though she's optimistic about Home Depot's sales growth for the full year, Citi analyst Deborah Weinswig lowered her estimate for the company's second quarter saying in a note to investors that May comparable sales looked to be in line with expectations, but "second quarter comps are expected to be below the first quarter run rate."
Morningstar analyst Peter Wahlstrom agrees, telling Fortune that he expects a 3.5% sales growth for each of the remaining quarters of 2010, and a cumulative 4% increase in annual sales over 2009. That's not exactly the kind of growth that suggests a rebirth.
As for the company's stock, it's recovered 56% from its March 2009 low, but Wahlstrom says it may never reach its height of over $60 per share from the early part of the decade.
Part of the problem is that home improvement stores have reached a point of saturation. Over the past 10 years, Lowes and Home Depot together added about 1,800 stores - neither company will have the opportunity to grow at the pace they once did. Home Depot currently operates 2,244 stores and plans to open just six new locations this year -- one will be in the U.S. and the remainder will be in Mexico. Meanwhile, the retailer shuttered 36 stores in the past two years.
Eventually, of course, housing will recover and Home Depot should return to consecutive periods of positive sales. But one good quarter, led by government stimuli and supply chain improvements, is not an indication that Home Depot is returning to its days of glory.
*An earlier version of this story incorrectly stated Home Depot reported its first profit in four years. It reported its first comparable sales growth.