Nearly 75% of homes are affordable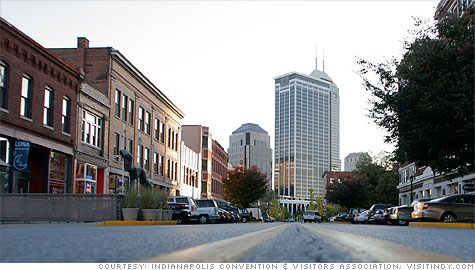 NEW YORK (CNNMoney.com) -- It's prime time for house hunters. Nearly anyone with a decent job and a good credit score can afford to buy in their home towns.
More than 72% of American families making the nation's median income of $63,800 a year, could afford to buy a home during the first three months of 2010, according to a report from the National Association of Home Builders (NAHB) and Wells Fargo (WF).
The national median home price for the quarter was $175,000.
"Homeownership continues its more than year-long trend of remaining within reach of more households than it has for almost two decades," said NAHB chairman Bob Jones. "With interest rates still hovering at low levels, companies starting to hire new employees and the economy beginning to rebound, this should encourage more home buyers to enter the market and help further stabilize housing and the economy."
The NAHB judges a home to be affordable if a family making the metro area's median income could devote no more than 28% of their take-home pay toward housing costs.
Many of the old industrial outposts of the Northeast and Midwest are among the most affordable places to live. Indianapolis, where the median home price sold during the first quarter was only $96,000, had led the list of most affordable large cities for five consecutive years. This time it shared the lead with the gritty industrial enclave of Youngstown, Ohio. Nearly 95% of all homes sold in both metro areas were affordable to households earning the local median income.
Dayton, Ohio, Syracuse, N.Y., and Grand Rapids, Mich., finish off the list of the five most affordable major metro areas.
The opposite end of the affordability spectrum is dominated by more glamorous bi-coastal venues, with New York being the least affordable metro area in the nation; fewer than 21% of homes are affordable for median earning households there. San Francisco, Honolulu, Santa Ana and Los Angeles followed Gotham.