City budget cuts mean fewer cops on the beat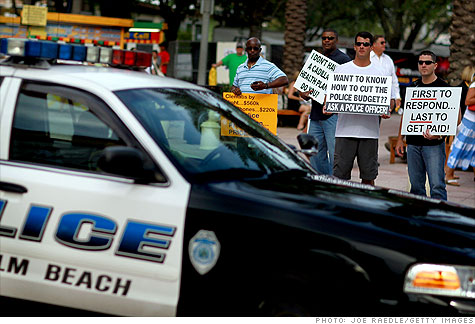 NEW YORK (CNNMoney.com) -- Better hope your car isn't stolen or your home burglarized in Huntington Beach, Calif.
Tight fiscal times have forced the police department there to cut back on investigating certain crimes, including those involving property, unless there are hard leads. Detectives once dedicated to those incidents have been reassigned to patrol.
The Huntington Beach police agreed to slash $1 million from its $58 million budget earlier this year to help close a $4 million city budget gap. The department has been unable to replace the 22 officers who retired in recent years, leaving it with a force of 237.
"We don't have the personnel to follow up anymore," said Lt. Russell Reinhart, a department spokesman, adding the department shed $3 million from its budget last year and plans to trim another $1 million in the coming year. "There's nothing left to do but cut services."
Putting the squeeze on police departments shows just how desperate city officials have become as they struggle to balance their budgets amid declining tax revenue and state aid. Having already slashed spending on social services, education and recreation, many are forced now to turn to the previously untouchable area of public safety.
Some 22% of local elected officials said they are making cuts in public safety, according to a National League of Cities report released Monday. This is up from 14% reported in a similar survey in December.
"It's usually one of the last considerations," said Christiana McFarland, a League program director. "The repercussions are big in terms of safety and quality of life."
Cities across the nation are reducing services and imposing pay cuts, furloughs and even layoffs on their men and women in blue, said Ron York, a police union consultant for the past two decades.
"This is one cycle where the police are the target," York said.
Tulsa, Okla., and Cincinnati, Ohio, for example, recently laid off dozens of officers. In West Palm Beach, Fla., the police protested a new contract that cut back on pay and benefits.
Fewer cops in schools
A drop in state aid is forcing Egg Harbor Township, N.J., to lay off up to nine of its 86 officers.
As a result, two juvenile crime detectives and two officers assigned to schools had to be put back on patrol, said Detective Ray Theriault, president of the Mainland Policeman's Benevolent Association Local #77. The municipality also had to eliminate its traffic safety bureau, which investigated fatal accidents and coordinated DWI checkpoints, and reassigned two other detectives.
This comes after the officers agreed to give up $1.2 million in overtime, raises, clothing allowance and other benefits to help the municipality balance its budget, which was $33.4 million last year.
"Our detective bureau is down to levels from the 1980s," Theriault said. "It really hampers our ability to do criminal investigations."
Township administrator Peter Miller declined to comment.
Small cities aren't the only ones suffering. In Dallas, city officials are turning to the police department to help close a $130 million budget gap. Among the suggestions: officers taking furlough days, as other city workers do; cutting overtime by a quarter; and trimming pay by 2%.
Though Dallas has been slashing services in recent years, the police department has been largely spared. But now, city officials have few other places to turn.
"In recent memory, public safety hasn't received the level of budget cuts that are being considered," said Frank Librio, the city's public information director.
Dallas officers, however, aren't keen on the idea of taking unpaid days off. Each furlough day would mean 80 fewer officers on the street, said Senior Cpl. Michael Walton, head of the Dallas Fraternal Order of Police. That could hurt crime prevention efforts.
"That one officer could be the one who passes a robbery in progress," Walton said.