Can 'Top Kill' save BP and Big Oil?
NEW YORK (CNNMoney.com) -- BP's "Top Kill" may wind up stopping the flow of oil gushing into the Gulf of Mexico. But will it also halt the flow of investor cash that's gushed out of the energy sector in the past month?
Shares of BP (BP) were up nearly 7% Thursday on hopes that "Top Kill," the heavy injection of mud into the well, may finally end the leak at the Deepwater Horizon rig.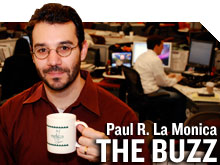 But since the tragic explosion on April 20, oil stocks have been among the market's worst performers. Before Thursday's oil rally, the Energy Select SPDR (XLE), an exchange-traded fund that includes the energy companies in the S&P 500, was down 14%, compared to an 11.5% drop for the S&P 500.
BP has taken an even bigger hit than most of its competitors, plummeting nearly 30%. Transocean (RIG), the operator of the rig, has plunged more than 35%. Other companies with ties to off-shore drilling in the Gulf, such as Halliburton (HAL, Fortune 500) and Cameron International (CAM, Fortune 500), have dropped more than 20%.
So with all this in mind, what's next for the oil patch? Is the Thursday rally a temporary phenomenon or has the sector bottomed at long last?
One fund manager argues that companies with exposure to the Gulf may have been oversold on fears about how expensive the clean-up and legal costs will be.
So if the spill is finally contained, this could wind up being the bottom for those stocks as well as the sector.
"The companies linked directly to the disaster in the Gulf may be priced too conservatively," said Lawrence Creatura, co-manager of the Federated Clover Small Value fund in Rochester, N.Y. "The haircut for the industry has been too large and dwarfs what the ultimate liability likely will be."
Other market observers are skeptical. The disaster in the Gulf wasn't the only problem affecting oil stocks in the past month. Worries about the European debt crisis caused the euro to plunge against the dollar, taking crude prices down with it.
There are also growing concerns about China taking steps to slow down its economy, which could cause demand for oil to fall.
Channing Smith, co-manager of the Tulsa, Ok.-based Capital Advisors Growth fund, said he recently sold the fund's stake in Canadian oil producer Suncor Energy (SU) and now only owns French oil giant Total (TOT).
His reasoning? No matter what happens in the Gulf, he doesn't think concerns about Europe and China will end anytime soon.
"Europe is slowing. I don't think the fundamentals are lined up for oil right now," he said. "With all the uncertainty, it's better to wait and see how this plays out."
While crude has bounced back to about $74 a barrel after falling to nearly $65 earlier this month, it's unlikely that oil prices will rise substantially higher as long as the euro remains weak.
It may take some time for Europe to get back on the road to recovery, and rebuild confidence in the multi-nation currency. And that would likely keep a lid on oil company profits and stock prices.
"Stability is lacking in Europe. It may take two generations until Europe solves its economic issues," said Leon Yohai, chief executive officer of Zulutrade.com, an online currency trading network based in Athens, Greece.
But Creatura said that Europe is only one variable in the oil price equation. He said as long as emerging markets like China continue to need oil, that's going to make oil companies a good long-term bet.
"Oil is getting scarcer, harder to extract and more expensive to find. Demand is increasing as emerging economies' consumption becomes a larger part of the pie," he said. "We are prisoners of geology and demography. That's why, over the long-term, oil prices are likely to be higher."
So no matter if you are an oil bull or bear, you need to pay attention to what's going on beyond the spill in the Gulf. Even if "Top Kill" does work, it won't do anything to stop people from worrying about Europe and China.
- The opinions expressed in this commentary are solely those of Paul R. La Monica.