Tylenol recalls referred to FDA crime division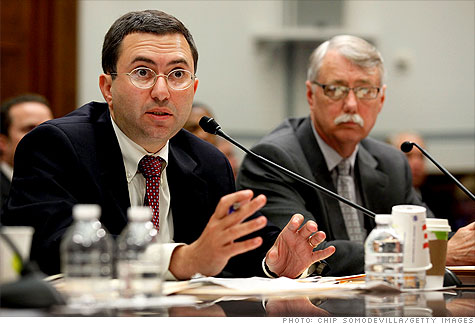 NEW YORK (CNNMoney.com) -- An FDA official hammered the maker of Tylenol for a pattern of sloppy manufacturing practices that led to a series of recalls in testimony prepared for a House hearing on Thursday.
Dr. Joshua Sharfstein, the Food and Drug Administration's principal deputy commissioner, cited "significant violations" of manufacturing regulations by McNeil Consumer Healthcare.
The drugmaker McNeil, a division of Johnson & Johnson (JNJ, Fortune 500), has recalled products four times in seven months. That included a widespread recall of children's non-prescription drugs on April 30.
According to an FDA document, Johnson & Johnson also found out about a potential problem with Motrin tablets in November 2008, but did not issue a recall until July 2009.
Instead, said the document cited by the House Committee on Oversight and Government Reform, the company told contract employees to "buy up" large amounts of Motrin products from stores to test whether the medicine dissolved adequately. They were instructed "not to mention a recall."
"What we've heard today is not too reassuring or comforting," said committee chairman Rep. Edolphus Towns, D-N.Y. "I don't understand how something like this could happen at a company with such a long-standing reputation."
'Remote' health risks, but 'serious concerns': In Sharfstein's testimony, he stressed FDA experts found only "remote" risk to the public.
Despite concerns about bacterial contamination, none was detected in finished lots of Tylenol, Sharfstein said. "Tiny metal particles" in the products were also not a problem, he said, and no final products that were released for sale had high concentrations of the active ingredient acetaminophen.
However, Sharfstein also referenced an "extraordinary" meeting in February 2010, in which the FDA put Johnson & Johnson "on notice" because of the agency's growing concerns over whether the company's quality controls "ensure purity, potency and safety."
In January, Sharfstein said, the FDA had issued a warning letter to McNeil "expressing serious concerns about the company's control over the quality of its drugs and the company's failure to aggressively investigate and correct quality problems."
Upper management failed to assure timely investigation and resolution of those issues, Sharfstein said.
Potential criminal liability: During the hearing, Rep. Darrell Issa, R-Calif., asked another FDA official whether "a potential criminal liability" exists as a result of the recalls.
"Well, it has been referred to the FDA's crime division," said Deborah Autor, a director at the FDA's compliance office.
"I'm going to take that as a yes, that there are potential criminal charges and indictments," Issa responded.
According to a statement from Sharfstein, the FDA is "considering additional enforcement actions against the company for its pattern of non-compliance which may include seizure, injunction or criminal penalties."
Johnson & Johnson has suspended production at McNeil's Fort Washington, Penn., plant that manufactured the recalled children's products.
On Tuesday, Johnson & Johnson outlined steps to remedy the quality and safety lapses at its manufacturing facilities.
"You're making a lot of promises, and I hope you live up to it," Rep. Issa said. "I expect that after 100 years of consumer trust, you have a reason to."