BP's $70 billion whipping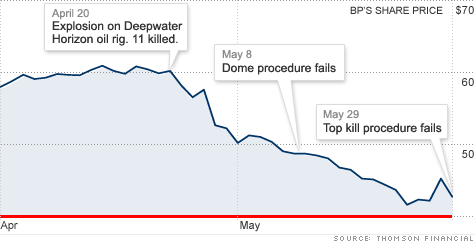 NEW YORK (CNNMoney.com) -- Despite the sharp fall in BP's share price following the company's inability to cap a leaking well in the Gulf of Mexico, most analysts say the selloff is overdone.
BP shares sank nearly 15% Tuesday after the company's latest attempt to seal the leaking Gulf oil well failed over the weekend. The selloff accelerated just before the closing bell, when U.S. Attorney General Eric Holder announced a criminal probe into the spill.
Since the accident happened April 20, which resulted in 11 deaths and an oil leak of up to 19,000 barrels per day, BP shares have fallen nearly 40%, wiping out nearly $70 billion in shareholder value. Before the accident the company had a market capitalization of nearly $183 billion. Now it's just below $115 billion.
Investors are concerned the clean up costs, lawsuits, and added restrictions from the spill, the worst in U.S. history, will sap BP's earnings potential.
Plus, like most big oil projects, BP is self-insured for the operation, so all of the costs of the cleanup and damages will fall on its shoulders.
No one knows how much the spill will eventually cost BP. Estimates have ranged from $3 billion to $25 billion - many fall somewhere in the middle. As of Tuesday BP said it has spent just shy of $1 billion on the accident.
But whatever the price tag, it will likely be paid out over a period of years. For a company that made nearly $17 billion in profit last year and is expected to top $20 billion this year, most analysts say the stock hit is unjustified.
"They've got a balance sheet you could slap $20 billion of debt on and not miss a beat," said Mark Gilman, an oil and gas analyst with the Benchmark Co., a boutique broker-dealer. "We think the financial hit has been excessive."
Indeed, so do the majority of analysts.
In England, where BP (BP) is based, 38 analysts have a buy rating on the stock and eight have it as a hold. Only three recommend selling it, said Douglas Youngson, an oil analyst at Arbuthnot Securities, a London-based investment bank.
Beyond the clean up costs and lawsuits, there's also possible damage to BP's reputation. This is, after all, the company that branded itself an environmentally friendly oil firm, buying wind farms and solar arrays and adopting the slogan "Beyond Petroleum."
Will there there be a major public backlash?
"Here in America we tend to have pretty short memories," said Ken Carol, an oil analyst at Johnson Rice & Co. "There was a big boycott after the Exxon Valdez, and they seem to be doing just fine now."
Carrol also didn't think the spill would impact too heavily on BP's relationship with other oil companies. Because of the high up front costs to develop an oil field, many partners are often required on a project. In this case, BP had partnered with Anadarko (APC, Fortune 500) and the Japanese firm Matsui.
Many subcontractors are also brought in to work on an oil well. The primary subcontracts in this case were Halliburton (HAL, Fortune 500) and Transocean (RIG).
Might it be harder for BP to find partners in the wake of this disaster?
"BP has been a good partner before," said Carrol. "I don't think people will turn their backs on them."
Carrol said the selloff in BP's share price was likely overdone, but said he didn't expect it to get any better until BP can fix the problem.
As long as the well is leaking, the costs are adding up, he said.
Dissenting opinion
When BP will fix the problem is anyone's guess. The company is trying to put a new dome over the leak this week, but with several previous attempts to cap the well failing, that procedure looks like a long shot.
The company is saying it may not be able to stop the leak until August, when a relief well being drilled into the failed well's base is completed.
"That's two months of horrible images and horrific headlines," said Youngson, the analyst at Arbuthnot Securities.
Youngson is one of the few analysts that are recommending people sell BP's stock.
He thinks that in addition to the massive cleanup and liability cots, BP will face serious regulatory pressure going forward. That may mean a loss of leases in the Gulf of Mexico, and a loss of confidence from their peers.
"Anything BP does in the future will be under the microscope, and that will drive costs higher," he said.
Youngson also brought up another possibility that most other analysts have not openly talked about to date: That BP stock could get so cheap it might be the subject of a takeover.
He thinks if the stock falls much below $30 a share, BP will become a target. Shares traded around $38 Tuesday afternoon.
'If the share price continues to fall," he said, "other companies may see this for the bargain it will be."