Ford's pimp-my-ride plan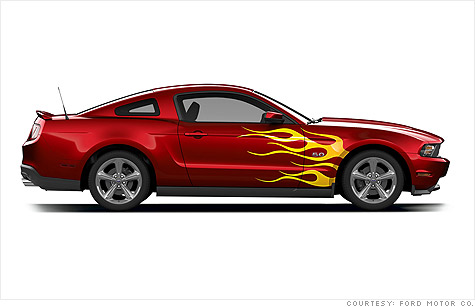 NEW YORK (CNNMoney.com) -- Mustang buyers will soon be able to get flames on their fenders right from the dealer, no fancy artistic skills needed.
Ford Motor Co. is bringing out a line of custom vinyl graphics car buyers can order to give their car or truck the appearance of a custom paint job without the paint.
The carmaker originally launched the Web site, fordcustomgraphics.com, back in November, but it only offered graphics for the Fiesta subcompact car which goes on sale in a few weeks.
The site will soon begin offering graphics for the Ford Mustang and the F-150 truck, both popular vehicles which are commonly customized by owners, Ford announced Wednesday.
"You click on your vehicle and its exterior color, select the graphics you like, and the Web site will show you exactly how the designs will look on your car or truck," said Jim Abraham, Ford's licensed accessories manager, in a company announcement.
The Web site was created by Original Wraps, Inc., which also provides the vinyl graphics.
Graphics for all other Ford models will be available by the end of this year, a Ford spokesman said. About 50 designs will be for created each model.
Designs to the Fiesta include urban skyline images, parrot wings and various shapes and patterns.
The designs, which are basically enormous decals, are installed by the dealer and, unlike paint, can be easily removed without damaging the underlying paint, Ford said. The designs are covered by a 3-year, 36,000 mile warranty.
Prices for the graphics range from $100 to $1,200, depending on the size and complexity of the image.
Toyota offers similar vinyl graphics on its youth-oriented Scion models.