IPOs make a comeback. But why?
NEW YORK (CNNMoney.com) -- Volatility? What volatility? The turmoil in the stock markets over the past month hasn't scared off companies seeking to sell shares to the public.
In just the past week, three relatively high-profile companies have filed for initial public offerings: Toys "R" Us, Zipcar and Nielsen Holdings, the owner of the ubiquitous TV ratings service.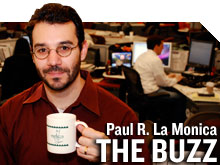 On top of that, big hospital chain HCA filed to go public in early May and options exchange CBOE Holdings is tentatively scheduled to start trading in mid-June.
It's an interesting mix of companies. Zipcar is your classic venture-backed startup. The company has a great service and explosive sales growth but it has yet to make a profit.
CBOE is one of the last of the major exchanges to go public.
And Toys "R" Us, HCA and Nielsen were all once publicly traded companies looking to return to the markets after being taken private by investment firms in the past few years.
But why the sudden rush to go public now? The stock market hasn't exactly been a friendly environment as investors fret about Europe, the BP (BP) oil spill and the still lackluster U.S. economy.
Kathleen Smith, principal with Renaissance Capital, a Greenwich, Conn., research and investment firm that focuses on IPOs and runs the Renaissance IPO Plus Aftermarket fund, said tax concerns may be one reason behind the recent flood of filings.
The House passed a bill last week that would increase the taxes on what is known as carried interest, the portion of profits from investments that partners of venture capital (VC) firms, private equity (PE) shops and hedge funds receive as compensation.
The Senate has yet to vote on the bill. If it passes, the proposed increase would take effect in 2011 and could dramatically increase the amount of money VCs and PE firms would have to pay in taxes after selling stakes in private companies.
Smith added that investors in venture capital and private equity funds may also be getting antsy and want to see results - even if the timing isn't perfect for IPOs.
"The carried interest rules change may be a factor, but there is also pressure on venture and private equity firms to show returns on their portfolios. There may be some forced selling," she said.
With that in mind, investors could expect more private companies to go public. Already there is rampant speculation that General Motors will soon file an IPO as a way for the government, which owns a massive stake in GM as a result of its bailout, to make a profit for taxpayers.
Insurer AIG (AIG, Fortune 500) is also expected to file for an IPO of AIA, its Asian life insurance unit, now that the deal to sell it to Britain's Prudential (PUK) has fallen apart.
There's a lot of chatter about how more tech start-ups, most notably social networking juggernauts Facebook and Twitter, are likely to eventually go public as well.
But IPOs aren't as sexy as they used to be. Smith said many investors realize that some firms may be reluctant sellers. As such, 65% of this year's offerings have been forced to price below their initial range, a sure sign of tepid demand for new stocks.
The days of Internet companies doubling on their first day of trading are long gone as well. Some hyped tech offerings have even fizzled lately.
ReachLocal, an online marketing firm with venture backing that went public last month, originally hoped to sell shares in a range of $17 to $19 each. But it wound up pricing the deal at $13 a share. ReachLocal (RLOC) did rise to $15 on its first day of trading but recently dipped below $13.
"The IPO market used to be like playing Monopoly," said Darren Fabric, managing director of IPOX Capital Management, the Chicago-based subadviser for the Direxion Long/Short Global IPO (DXIIX) fund.
"As long as you were allocated shares before the company started trading, you'd pass go and get $200. Now you're almost better off waiting for stocks to trade well after they've gone public," he said.
Fabric said that a Facebook IPO could re-ignite individual investor interest in new offerings. He also said that the upcoming IPO of electric car company Tesla Motors, which filed to go public in January, may also generate some excitement.
Still, unless the broader market recovers, it's tough to imagine that IPOs will perform well once they start trading.
And until a company goes public and actually does well over a sustained period of time - think of something like Google (GOOG, Fortune 500) - then it's hard to imagine investors falling in love with IPOs all over again. These days, many investors are more interested in steady, stable assets such as Treasurys instead of growth stocks.
"Individual investors are not in the IPO market. They are not talking about IPOs at cocktail parties or the stock market in general," Smith said. "Individuals are still chasing yield in the bond market."
- The opinions expressed in this commentary are solely those of Paul R. La Monica.